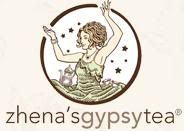 Hey everyone! My next review is for the
Zhena's Gypsy Tea
. Zhena's Gypsy Tea is this amazing company that sells delicious tea. I'm such a tea girl, even though I do dabble in coffee sometimes, nothing beats tea. Especially with this website, they have such a wide variety of tea from loose leaf to sachets, and they're just awesome. They're also organic and fair trade which just makes you love them even more.
I was sent four amazing teas:
The teas that I received:
Goji Cacao Berry Green Tea
Coconut Chai Black Tea
Caramel Chai Herbal Red Tea
Chocolate Chai Herbal Red Tea
First of all I requested these four but didn't expect to receive them all! I was so surprised and excited, so thank you Zhena's Gypsy Tea for that. All of these teas though are just, absolutely incredible. They also sent me the sachets which is great because as much as I love loose-leaf tea sachets are so much easier, especially because I'm super lazy. I like their little sachets too because they're round and could just leave them in your cup as your sipping your tea.
I love chai teas and all of these are incredible. I think the caramel one, which I thought was going to be my least favorite, ended up being my favorite. The combination of flavors of bourbon vanilla, caramelized brown sugar, cinnamon, clove, just make it absolutely delicious. I feel like it's the one with the strongest flavor plus it's super soothing and just sweet and yummy. They're all sooo good though. I never had chocolate tea before and the chocolate chai was incredible. The coconut one was great too even if you don't like coconut you may like this tea. The goji cacao berry green tea switched it up because I thought I'd try something different and my roommate is obsessed with cacao berries. It's really delicious. Sweet but not too sweet. The Goji berry is a mix between a cranberry and a cherry so it gives it a nice tart flavor.
Overall, these teas are excellent, I am seriously addicted to them now. I have about two cups a day, not even joking. Definitely check out Zhena's Gypsy Tea they have such a variety of green, herbal, black, and more teas. From loose leaf to sachets to even sample tins of various flavors. They even have teapots and accessories. Definitely check them out, you won't be disappointed!
Buy It!
Head on over to
Zhena's Gypsy Tea website
and browse their awesome selection!
Win It!
ONE winner will win all four teas: Caramel Chai, Chocolate Chai, Coconut Chai, and Goji Cacao Berry Tea!
1. Go to
Zhena's Gypsy Tea's website
and tell me what tea you'd like to try in the future. Please answer this question or else your comment will not count! You must do this first or future entries will not be counted. (1 entry)
BONUS ENTRIES
2. Follow starIMPULSE on blogger. (2 entries!)
3. Subscribe by Email and Confirm that Subscription (1 entry)
4. Follow me on Twitter. (1 entry)
5. Tweet about this giveaway and send me a direct link to that tweet, you can do this once a day. (1 entry per day)
6. Subscribe to my YouTube channel. (1 entry)
7. Add my StarIMPULSE button to your sidebar and send me think link to your blog so I can see it. (1 entry)
8. Add StarIMPULSE to your blogroll (using my URL), with a link back to me! (1 entry)
ONE winner will be chosen on March 5th, 2012 at 5:00pm (EST) and then will be emailed.
Alternate winners will be chosen if winner does not respond after 48 hours. This contest is only open to all US Residents. Thank you and good luck!
Disclaimer-
I was provided a product in exchange for my review.
You can read more about my blog policies in my disclaimer.