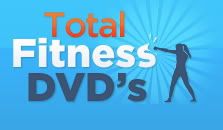 Hey everyone! My next review is for
Total Fitness DVDs
. Total Fitness DVDs is an awesome website that has a variety of fitness DVDs. From cardio to yoga to even childrens' DVDs, if you want to start working out or have your children become more active this is definitely the website to check out.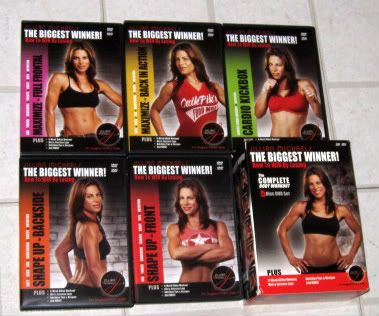 I received Jillian Michaels' 5 Disc DVD set of The Biggest Winner to check out. The set includes:
Cardio Kickbox
Shape Up - Front
Shape Up - Backside
Maximize - Back in Action
Maximize - Full Frontal
I have to say, I was a little hesistant believing the sheer intensity of both fitness DVDs and Jillian Michaels but both have proven me wrong, these DVDs are amazing! The Shape Up ones are basically like boot camps the front one is full of like push ups and all that crazy arm/shoulder/ab routines while the backside is full of lungs and all those terrible legs and butt workouts. The Maximize ones are fairly similar to the Shape Ups both being separated from upper body and lower body but the difference is that they give you different routines. Same muscle groups and similar moves but little alterations. Like not just basic lunges but lunges on the steps, stuff like that. My least favorite was actually the Cardio Kickbox. I have done Comcast On Demand workouts before and some are good, some are bad, but I never like their Cardio routines for some reason and this DVD is no different. I just feel like jumping jacks don't do enough justice as spin class and swimming does. It's great though if you're crunched for time though or even if you're feeling a little achy. Even though the cardio isn't as super intense as I like, it's something.
The DVDs are only 30 minutes long which goes back to the time thing. They're perfect for when you're too lazy to go to the gym. For me, I like them because sometimes I want to go to the gym and it's like 6pm, you know rush hour and the gym is packed, so instead I'll do two of these DVDs. They're great for girls because girls tend to not focus on much strength routine and Jillian does incorporate weights and strength training moves which is super important.
I also like the little bonus features on the DVD like recipes and workout logs and also nutrition tips. It's super informative and I just like getting extras to really help you out on not just working out but also being healthy.
Overall, I was really impressed by the DVD set the workouts were super intense, one of my roommates who is a dude made an attempt to workout with me with the Shape Up - Front and he had a difficult time and ended up quitting, so yeah, it's pretty awesome.
Definitely check out Total Fitness DVDs, I like intense strength training routines but they also have yoga and even martial arts and just so much more. You're bound to find something you enjoy.
Buy It!
Head on over ot
Total Fitness DVDs' website
and browse their awesome selection!