Hey everyone! My next review is for
Journal 10
. Journal 10 is this really unique journal that helps you keep a journal for 10 years.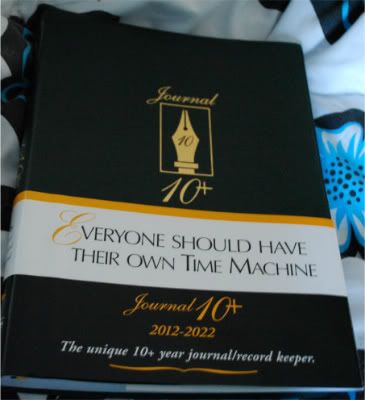 I like the idea of this Journal 10, it says right on the cover "Everyone should have their own time machine." and they are completely right, this is such a good way to check back and see how you have changed or what you did in the years prior. Each page is a date like April 4th and then leaves spaces for 2012 to 2022 so you can write what you did or needed to do that day.
I really like this journal, the main problem though is that it is pretty large. I have a planner that is really tiny because I can easily carry it around from place to place. This one I would have more difficulty using just because it is quite big. But if you have a big bag or go to school this could be perfect for you. It also has notes in the back as well as places to put your phone book information for other people's contact information. It also has a nice cover that is in between a soft and hardcover, that I am sure will last years and years.
It's a wonderful way to preserve your memories, because while we can use the internet to keep photos on facebook and such, who knows how long that will last.
Overall, it is a really great way and unique tool to write down moments. I wish they had a mini version but I am going to try and keep this at home and use it every night and hopefully I stick to it. If you love jotting down to-do lists or memories or anything this is great for you!
Buy It!
Head on over to
Journal 10's website
and browse the reviews and buy one yourself! It is totally worth it!
Win It!
ONE winner will receive a Journal 10 for themselves!
1.Tell me what is your favorite memory, it could be something long or something short. Please answer this question or else your comment will not count! You must do this first or future entries will not be counted. (1 entry)
BONUS ENTRIES
2. Follow starIMPULSE on blogger. (2 entries!)
3. Subscribe by Email and Confirm that Subscription (1 entry)
4. Follow me on Twitter. (1 entry)
5. Tweet about this giveaway and send me a direct link to that tweet, you can do this once a day. (1 entry per day)
6. Subscribe to my YouTube channel. (1 entry)
7. Add my StarIMPULSE button to your sidebar and send me think link to your blog so I can see it. (1 entry)
8. Add StarIMPULSE to your blogroll (using my URL), with a link back to me! (1 entry)
ONE winner will be chosen on April 19th, 2012 at 5:00pm (EST) and then will be emailed.
Alternate winners will be chosen if winner does not respond after 48 hours. This contest is only open to all US Residents. Thank you and good luck!
Disclaimer-
I was provided a product in exchange for my review.
You can read more about my blog policies in my disclaimer.