Hey everyone! My next review is for
Marika
. Marika is a great fitness apparel website with a variety of shirts and pants for working out.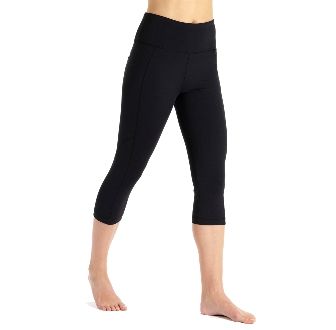 I was sent their awesome Marika Miracles Slimming Capri Legging W/Tummy Control. These are definitely my new favorite workout pants. Seriously! They are so comfortable. Usually slimming pants are super tight around the waist but these just feel like regular pants. They don't really roll down either as I noticed with the tighter leggings that I have tried in the past. Also, I have a booty and with the other tight leggings I noticed I'd have to pull them up in the back, these did not have that issue, because they are higher waisted but also because they aren't too tight but more comfortable instead.
As the website says:
"This tummy control capri legging will keep you looking slim; featuring: power mesh on the side panels and on the waistband for compression and support, breathable gusset lining to keep you dry."
Marika actually has an entire Miracle line dedicated to flattering fashion. It utilizes the Elasta-tight dry-wik fabric and incorporates patent approved and patent pending designs and technologies, which ultimately provide a great shape to a women's body before she even hits the gym. They even have tops with the elasta-tight technology, too.
Overall, I really loved these leggings they are awesome. Definitely my new favorite workout pants. They also have a back waistband media pocket where you can put your keys or ipod, something tiny. I definitely recommend these pants though they are so comfortable and make you feel great about yourself. Definitely check them out and you won't be disappointed!
Buy It!
Head on over to
Marika's website
and browse their awesome selection!