Hey everyone! My next review is for
Kushyfoot
. You may remember that I have done several reviews for them in the past and you can check them out
here
. This time they actually switched it up and created the perfect Kushyfoot for the hot summer season coming up.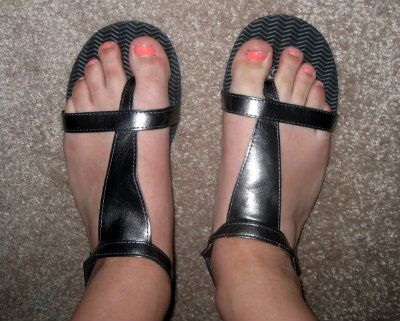 Sandals!
Kushyfoot is a great company that is known for their Flats to Go which helps rescue sore feet and acts as emergency footwear, now they have sandals and peep toes to act in similar emergencies just now you can show off your awesome pedicure too!
I really love these and, to be honest, I am surprised nobody thought of this any sooner. They are perfect for the summer coming up and you can still easily carry them around. These come in small little bags that you can fit easily into your purse. They're pretty cute too, I would wear them as regular sandals but they aren't meant for heavy, every day use.
I picked a size 7/8 in these and they fit perfectly. Not too tight or too lose, nothing really irked me about them or rubbed weirdly and I typically do have a problem with flats. These seem really great though. And they're padded at the bottom like any other shoe but with a thinner sole. They're really great and, honestly, I think they are a super genius idea.
Definitely check out Kushyfoot, they not only have flats to go but stockings, socks, and other legwear too! These sandals to go are only $9.99, awesome!
Buy It!
Head on over to
Kushyfoot's website
and browse their selection!