Hey everyone! My next review is for
Bell Plantation
. Bell Plantation is a great company that sells peanut related products most notably their PB2 which is powdered peanut butter and is ridiculously amazing.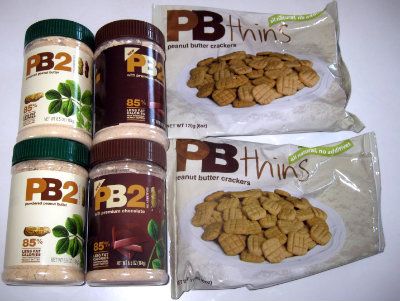 The products I received are:
PB2
PB2 Chocolate
PBthins


Once again, another product I was a little skeptical to try, but I heard many people giving it awesome reviews so I had to hop on the band wagon and now I don't want to get off. Seriously, how do people think of such awesome ideas? This powdered peanut butter is incredibly easy to use, all you do is take 2 tablespoons of the powder, mix it with one tablespoon of water and it becomes thick and delicious peanut butter you can spread on bread or crackers or just eat from the spoon! If you want to switch it up, add the powder to a protein shake or your oatmeal to give them a yummy pb flavor. It seriously tastes just like peanut butter! Just without the extra fat and calories, it is amazing!
As the website says:
"Through a unique process that doesn't involve the use of any chemicals and doesn't alter nature's intended balance found within the peanut, we remove over 85% of the fat from premium quality peanuts. Essentially, the oil is squeezed out of roasted peanuts and what remains is our famous powdered peanut butter – all natural with no artificial sweeteners or preservatives."
This is seriously amazing, and it lasts too! I actually like the idea of having to mix the peanut butter so it's not so easy to dig my spoon in the jar and attack it. I have to work for the deliciousness and it is totally worth it. The original PB2 tastes just like peanut butter while the chocolate PB2 tastes like peanut butter with a chocolate kick, both are incredible.
The PBthins are just as good, maybe too good. They're all the healthy and deliciousness of PB2 rolled into a delicious healthy snack cracker. They get to be addictive though! So I had to hide them and only grab a few and put them in a ziplock bag when I am on the go and need a quick snack. They're actually really good though as cereal too, just mixing them in milk is amazing.
Another thing I love about these products is actually the website, they have a huge recipe selection that can help you choose what you want to do with your PB2 in case you get tired of the usual PB2 and jelly sandwiches. Check out the recipes
here
!
Overall, I was so surprised by how delicious PB2 was and the PBthins, they definitely did not disappoint! If you like peanut butter but want to lead a healthier life, because PB is good but can get pretty fatty and high in calories, definitely check out PB2 you won't be disappointed!
Buy It!
Head on over to
Bell Plantation's website
and pick up some PB2 or check out their other awesome products!