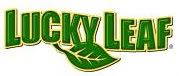 Hey everyone! My next review and giveaway is for
Lucky Leaf
. You may remember I have reviewed them many times before, check out previous reviews
here
. They are a wonderful company that continue to get more and more creative and awesome with their products.
Yes, I did say creative, you can do more things that just make pie with pie fillings like...
Make popsicles!
Calm down, I had no idea you could do this either! But I was sent an awesome, super easy popsicle kit along with more delicious pie fillings and recipes from Lucky Leaf. They did have a yummy peach cinnamon cake and a fruit cookie pie that both sound equally tempting but when given the chance to make popsicles, one does not choose pie instead. So I make some banging blueberry popsicles.

Ignore my crazy hair, I just got back from the gym.

I went to the movies, ate dinner with my friend, came back, and they were all ready. My roommate and I engorged. Well not really, you can't engorge yourself on popsicles, at least I don't think you can but man we came pretty close. They were SO GOOD. And so easy to make. All you did is blend 1 cup milk (I did it with almond milk, same difference), half of a lemon squeezed (I just squeezed some lemon juice in), and half of a can of the pie filling. Pour it and freeze. Boom. Delish.
There actually was some left over so I made a smoothie with it. I added a banana and some chocolate shakeology and it was pretty incredible too. But I am also obsessed with blueberry/banana smoothie. For instance Jamba Juice's Banana Berry is my favorite EVER. But I loved this smoothie because there was NO seeds. Usually when I make blueberry smoothies I get seeds all up in my mouth. This one, none! I LOVE IT.
Overall, once again Lucky Leaf once again does not disappoint. They have you prepared for summer with amazing smoothies! Definitely check them out even if you don't want pie, you can make something else awesome!
Buy It!
Head on over
Lucky Leaf's website
and browse their awesome selection.
Win It!
ONE winner will receive a Lucky Leaf prize pack!
a Rafflecopter giveaway