Hey everyone! My next review and giveaway is for
Primal Spirit Foods
. Primal Spirit Foods has a variety of delicious Primal Strips which are meatless vegan jerky and are pretty much the best, most delicious snack I have had in a while.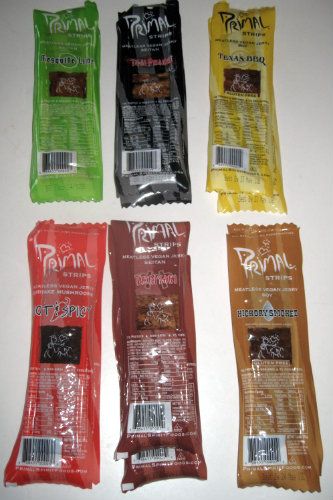 The Flavors I received:
Texas BBQ
Teriyaki
Thai Peanut
Mesquite Lime
Hot and Spicy
Hickory Smoked


These are one of the most surprising products I have ever reviewed. When I heard they had meatless tofu jerky I was interested in tasting them but a little skeptical. Sure I am a pescatarian and do eat tofu on a regular basis but usually tofu products are mreh. I had no idea what amazing, deliciousness I was in for. I was completely blown away.
You guys know me, I have a super sweet tooth so savory or salty snacks never really cut it for me. I love chocolate and cupcakes and all those sugar goodies, but man I can get used to these. They are sooo good. I'm trying to eat them slowly because I want to save them but I seriously cannot get enough. The texture is just like regular jerky, if not better, it's chewy and savory and just incredible. Usually tofu is bland but these are like a giant explosion of flavor. I don't even know which one is my favorite because they have a flavor for any mood spicy or bbq. Definitely hands down, one of the best surprises I have ever reviewed and I mean that in the best way.
Not only do they taste amazing but they are pretty darn good for you, too! Here are some awesome facts about just how good they are:
- No GMO's
- All natural
- Vegan/Kosher
- No cholesterol
- No preservatives
- No artificial colors
- High energy and high protein
- Made with Soy, Seitan and Shiitake Mushrooms
They are also super low in calories, being between 70-110 per jerky and a great source of protein!
Definitely check these out they are so delicious. Even if you aren't vegan or vegetarian they are still so delicious. If you want a new, awesome snack instead of granola bars or anything definitely try these vegan jerky's they are amazing!
Buy It!
Head on over to
Primal Spirit Foods' website
and browse their awesome selection!