Hey everyone! My next review and giveaway is for
RW Garcia
. RW Garcia has a variety of amazing tortilla chips. They are made from the finest, all-natural ingredients including organic and stone ground non-GMO corn and seasonings that contain no additives or preservatives. Their chips are wheat free, and most are also gluten free. Awesome!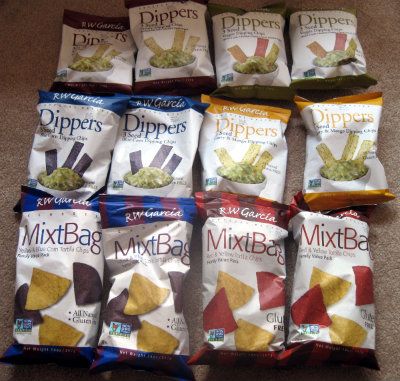 The chips I received are:
Mixt Bag Yellow and Red
Mixt Bag Yellow and Blue
Dippers Savory
Dippers Veggie
Dippers Mango/Curry
Dippers Blue Corn


These chips are amazing. They're the perfect size, too! Not gigantic like some tortilla chips. The variety is excellent, too! I love the regular blue corn chips but the mango and curry really had a sweet and spicy flavor with the savory lives up to its savory name.
The Dippers are made with all natural ingredients, trans fat free and gluten free certified. While the Mixt Bags are completely wheat and gluten free, contains no Trans Fats and is made with all non-GMO ingredients.
I am obsessed with these. I haven't eaten many with salsa but I discovered an amazing combination thanks to these and that is these amazing chips and hummus. Did you ever realize how amazing hummus is as a dip with tortilla chips? Me neither! Until now. I nearly ate one bag of Dippers in one sitting after I discovered this. It is amazing.
Overall, I loved these chips they were such a delicious snack. Also they didn't taste much different from those big, unhealthy name brands, in fact they actually tasted better. Definitely check them out you won't be disappointed!
Buy It!
Head on over to
RW Garcia's website
and browse their selection.
Win It!
FIVE winners will receive all FOUR Dippers chips!
a Rafflecopter giveaway