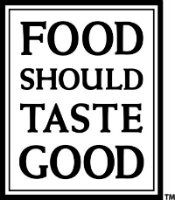 Hey everyone! My next review is for
Food Should Taste Good
. Food Should Taste Good is an awesome company that sells a variety of amazing chips and crackers, literally amazing.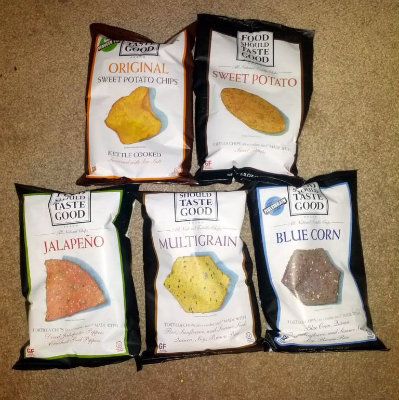 I received these chips:
Original Sweet Potato Chips
Sweet Potato
Jalapeno
Multi Grain
Blue Corn
First of all, Food Should Taste Good obviously knows me too well by sending me not one but two versions of sweet potato chips. I am not a big fan of chips at all or fries or anything potato related but my weakness is sweet potato fries, little did I know that sweet potato chips existed. Needless to say the second ones, that bag was gone in about five days. They were so good, you could eat them with hummus or salsa, but I preferred solo.
The other chips I was pretty super excited about was the Jalapeno. I had never heard of jalapeno chips before either. Actually once I opened the box they were the first ones I smelled, seriously. But tasting them, they were equally delicious and definitely lived up to that first smell of opening the box of chips. If you aren't a fan of spicy things I don't recommend them though. They were a little spicy but not so much that you couldn't enjoy them. They went perfectly with salsa or even by themselves.
The other chips were great too, the blue corn went perfect with salsa, I had them at a party and they went like hotcakes. The multigrain were great go to chips just to snack on some chips and the original sweet potato chips were fantastic. The sweet potato were actually kettle cooked chips which made them a little more crispier if that makes sense. I was so surprised because, like I said, I'm not huge into chips.
But what is great about these chips is that chips are made from high quality ingredients. All chip varieties are gluten free, cholesterol free, have zero grams trans fats. They are also certified Kosher. Plus, many varieties are certified vegan. They are all free of cholesterol, preservatives and trans fat, lower in sodium, and are a good source of dietary fiber. They currently have over 23 flavors consisting of tortilla chip line as well as a NEW line of Kettle Cooked Sweet Potato Chips with 4 classic flavors: Original, Barbeque, Salt & Pepper, and Salt & Vinegar
Definitely check them out, they are so good and you won't be disappointed!
Buy It!
Head on over to
Food Should Taste Good's website
and browse their awesome selection! Click on ones you like and buy them online, it's that easy!