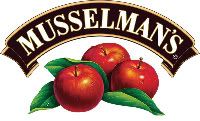 Hey everyone! My next review and giveaway is for
Musselman's
. You may remember that I have reviewed Musselman's several times in the past and you can check out all of those awesome reviews
here
. I love Musselman's it is my go-to for any apple related products, they're so delicious just generally pretty awesome.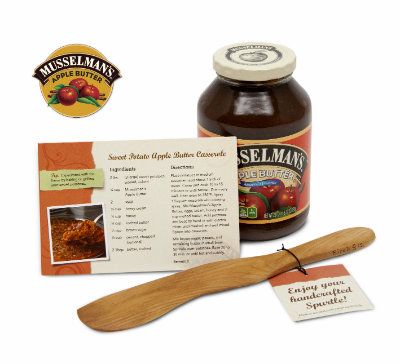 I was sent an awesome little package of Apple Butter and a Spurtle along with 3 awesome recipes to try with my apple butter.
I thought the Spurtle was really cool and unique, it is actually perfect for scraping the apple butter that gets stuck on the side of the jar. You can also spoon it out and spread it on bread with the spurtle too. Basically it's your go to tool for apple butter and jar spreads. It is pretty awesome and super handy.
I love apple butter, it's perfect to snack on with some bread or you can make some awesome recipes with it. For instance: Monkey Bread.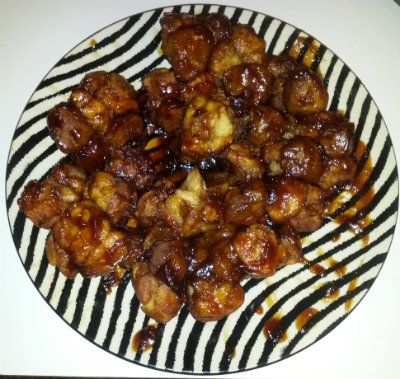 Ingredients:
2 cans refrigerated biscuits
2/3 cup sugar
2 Tbsp. cinnamon
½ cup butter
½ cup brown sugar
½ cup sugar
½ cup MUSSELMAN'S Apple Butter
Directions:
Separate biscuits and cut in quarters. In a bowl, combine sugar and cinnamon. Roll biscuit pieces in cinnamon sugar to coat, and drop them in a greased Bundt pan. Make sure they are distributed evenly.
On the stove top, heat the butter, brown sugar and sugar to a boil until sugar is dissolved. Remove from heat and stir in apple butter. Pour mixture over the dough, and bake in a pre-heated 350°F oven for 30 minutes. Let stand 10 minutes, turn upside down onto serving plate, and remove pan.
These are just incredible. I actually bought two cans of cinnamon buns instead of biscuts to make it super cinnamony and they tasted so good. But I think because I made them with cinnamon buns instead of biscuits they didn't stick together and made little nubs as you can see. I googled other pictures of "money bread" and the seem to mold together, but honestly, I kind of like that they are little nubs because you can snack on them.
Overall, I was super happy with the Apple Butter and the Monkey Bread, my roommate and I attacked the bread and there really isn't much left, it was made two nights ago too. Apple Butter also has this great recipe called "Sweet Potato Apple Butter Casserole" that I definitely want to try next too. Definitely check out Musselman's especially their apple butter, you can make some really incredible recipes or just snack on them. If you love apples you definitely won't be disappointed!
Buy It!
Head on over to
Musselman's website
and browse their awesome selection!
Win It!
ONE winner will receive a Musselman's prize pack like the one above including a jar of apple butter and a spurtle!
a Rafflecopter giveaway