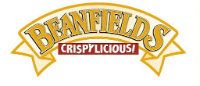 Hey everyone! My next review and giveaway is for
Beanfields Snacks
. Beanfields Snacks have a great variety of chips that are actually made with beans. They blend them with long grain rice to create delicious chips and they are pretty awesome!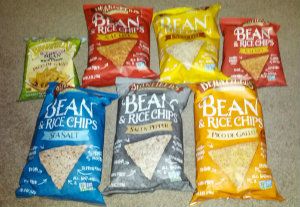 I received a bunch of awesome chips to try. Here are the flavors:
Nacho
Pico de Gallo
Salt and Pepper
Unsalted
Sea Salt
And little Nacho and Pico de Gallo bags for lunchtime snacking!

I really liked these. They are a little darker and the color is almost grey with some flavors and that kind of confused me but it makes total sense because they're made from beans. I'm sure the dark color is from the black beans. Either way they are so, so good. I ate the nacho ones immediately after receiving them and they tasted fantastic with salsa, I nearly ate the entire bag! The other flavors are awesome too for dipping into hummus, salsa, other dips, or just crunching on them solo!
What is also great about these snacks is that they're corn free, gluten free, and NON-GMO which is great for people with allergies or if you want to eat healthier. They also have 4 grams of protein and 4 grams of fiber -- that's twice as much as your usual corn tortilla chip!
But more importantly, they are so good! Yes there may be other chips that claim gluten free, corn free but many of them just don't taste good, this one proves them wrong.
I added them to the Holiday Gift Guide because while chips may not make great hardcore gifts for people they are perfect for all the holiday parties coming up! Chips and dip are a staple, so why not make these the chips you pick?
Overall, I really enjoyed these chips and plan on busting them out during an upcoming party I'm having. I think I may bring some down to my cousin's house too because she is gluten free. Definitely check them out though, like I said even if you aren't gluten free they are still so delicious! They're also made in SoCal in Brentwood near me! So if any of you guys live in Southern California, check them out because it's always nice to go local, too!
Also remember to
Like Beanfields Snacks on Facebook
and
Follow them on Twitter
if you want more info!
Buy It!
Head on over
Beanfields Snacks' website
and browse their awesome selection!
Win It!
ONE winner will receive a 6 pack of awesome Beanfields Snacks chips!
a Rafflecopter giveaway