Hey everyone! My next review and giveaway is for
Journal 10
. You may remember I did a review for them last year and you can check it out
here
.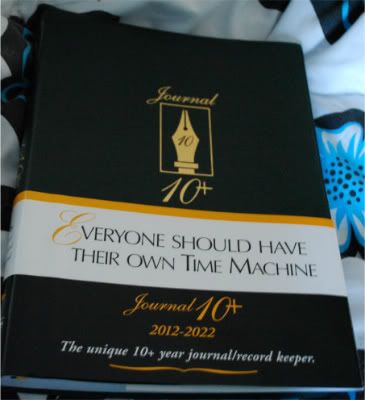 With Christmas right around the corner and a new year just a little over a month and a half away, Journal 10 is the perfect gift for your friend or special someone that loves to write. Journal 10 is a 10+ time keeper that you write in everyday for ten years. It says right on the cover "Everyone should have their own time machine." Pretty awesome.
I plan on giving this to my grandpa who writes a lot for Christmas but you can gift it or keep for yourself too. It is a pretty awesome idea to keep a little mini time machine to see how much you've changed within ten years.
Although it is a bit big, it is great to keep next to your bed or on your desk where you can write in it every night before bed. Like I said, I think it makes a perfect gift to give someone for Christmas because it is more unique than your average journal. All you have to do is scribble down a few sentences and soon you'll have memories of inside jokes, quotes, and conversations for years. You can even pass the journal on. It's really great and I definitely recommend checking it out. Overall, I definitely recommend this and even if you don't think you can go through with writing in it everyday just read all the testimonials online, they definitely inspired me to write in it!
Buy It!
Head on over to
Journal 10's website
and browse the reviews and buy one yourself! It is totally worth it!
a Rafflecopter giveaway