Hey everyone! My next review is for
Jammy Pack
! JammyPack is an awesome company that sells portable speakers that you carry around your waist. Like fanny packs but way, way cooler!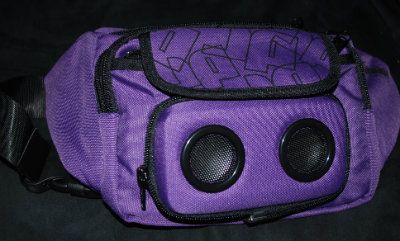 I chose the
Eh Sport
one because I love purple and I liked all the extra pocket space. I know that this is a perfect pack for traveling and hitting up the beach. I like the extra pockets because I can put all my stuff in it like my phone, wallet, etc.
The JammyPack is super easy to use. It has two plugs, one is an earphone jack which you plug into your iPod, phone, music playing device, and the other is a USB port which you plug into the power source. I was sent a rechargeable battery pack and two other battery packs that you just put 4 AA batteries in. Plug it into either and you will be blasting music for 6-10 hours! Sounds like a long, awesome day at the beach for me!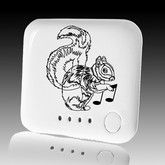 The rechargable battery pack as you can see looks cute, with the little squirrel on it, and also works with phones too! So carry this 2" lovely little wonder around in case your phone or iPod dies, which my phone does quite often. You recharge it by plugging it into your computer.
The quality is awesome, 3W of stereo-amplified beats per speaker. You control the sound as you usually would do on your iPod, so set the volume and forget it. Put it on a playlist and just jam out.
The quality of the pack is awesome as well. It is made of high-density, woven, rigid material (600D Poly) that form fits to your waist to give the owner maximum support.
Overall, I was super impressed by the JammyPack, it makes everything just that much easier. Definitely check them out, you won't be disappointed!
Buy It!
Head on over to
JammyPack's website
and browse their awesome selection!