Hey everyone! My next movie review is for
Wreck-It Ralph!
! I was really excited to see this highly anticipated film and let me tell you, it definitely did not disappoint!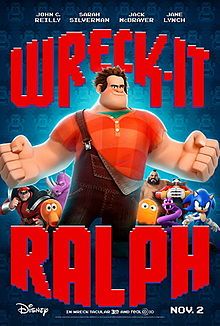 Disney is on it this year. Seriously. Frankenweenie, Brave, now Wreck-It Ralph? They are all SO GOOD. I'm pretty excited for Lincoln now, too. Wreck-It Ralph was definitely one of my favorites, though. But who am I kidding? They all were.
Wreck-It Ralph tells the story of a video game bad guy named Wreck-It Ralph who doesn't want to be a bad guy anymore so he goes on a journey to prove to everyone that he isn't such a bad guy.
I don't want to give away much of the movie, but he goes on an adventure where he meets and befriends a girl named Vanellope who isn't your average little video game girl, and things change for the both of them.
I really loved this movie, I loved how they created this entire video game world that was so believable. The characters in Fix-It Felix Jr. (the game Ralph is from) move just like how you would imagine video game people to move. They have great little jokes and Vanellope is super hilarious. She is basically just like Sarah Silverman, the actor who voices her, if Sarah Silverman's humor was G-rated.
It also had a wonderful message. Basically the key to finding your happiness is finding and being comfortable with yourself. The whole movie's message can be summed up by the great Dr. Seuss quote: "Be who you are and say what you feel, because those who mind don't matter and those who matter don't mind." Vanellope actually says something towards the end like "I know who I am," or something and that was the entire moral of the story. It was really sweet and so true and great for people of all age to watch and learn. I love how they created this totally new and unique story but send the same honest message.
Overall, I really liked this movie and adored the message. It was so cute and unique. The only thing I felt it lacked was more Sonic the Hedgehog and they needed Mario. But that's just me because I do love Sonic. It's a great film for everyone for children, video game geeks, nostalgic 80's people or someone that wants to see a really great film. Definitely check it out, you won't be disappointed.
Watch It!
Wreck-It Ralph is in theatres now! Head on over to your local movie theatre and see it, it's definitely a great movie for everyone to see!