Hey everyone! My next review is for
Merlot Skin Care
. Merlot Skin Care is a great company that sells wonderful skin care products that are focused mainly on grape seeds.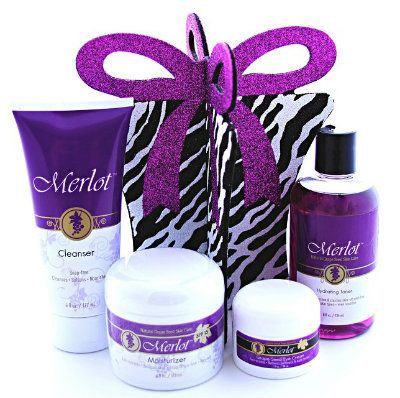 I was sent their
Daily Beauty Gift Set
which includes:
Merlot Moisturizer
- a lightweight, anti-aging formula with SPF.
Grape Seed Facial Cleanser
- an ultra-gentle cleanser that softens skin and removes impurities with non-drying soap-free formula.
Hydrating Toner
- a refreshing splash that helps clean pores and prep skin for deep moisturizing.
Grape Seed Eye Cream
- a moisturizing formula that helps reduce puffiness and eliminate dark shadows, while also relieving dry skin in the delicate eye area. Helps improve skin's look by boosting collagen production and increasing circulation.
I really enjoyed how it was shipped and packaged. It was in a really cute zebra-wrapping paper and came with a pine-cone and bow. Really a perfect little gift for someone special this Christmas season.
The website describes it best, Wayne Beckley created Merlot Skin Care
"utilizing the power of the grape seed in each unique formulation. Harnessing nature's most powerful antioxidants, Merlot products work to fight free radicals – molecules caused by smoke, smog, pollution, stress, and UV rays – and protect skin against the signs of aging."
I really enjoyed these products especially the cleanser because I used that most. I thought it was odd at first because it didn't lather up like most cleansers but that's because it is soap free, but I did get used to it. I really enjoyed that it didn't dry out my skin like a soap cleanser may. It didn't irritate my skin and worked really well.
Overall, I really enjoyed this skin care regimen. It made my skin feel great, soft, and didn't dry it out at all. Definitely check out Merlot Skin Care, it's really great and I recommend it!
Buy It!
Head on over to
Merlot Skin Care's website
and browse their awesome selection!
Win It!
ONE winer will receive a Daily Beauty Gift Set, too!
a Rafflecopter giveaway