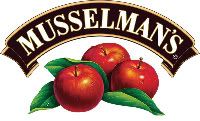 Hey everyone! My next review and giveaway is for
Musselman's Apple Butter
. You may recall I reviewed Musselman's products in the past and you can check them all out
here
.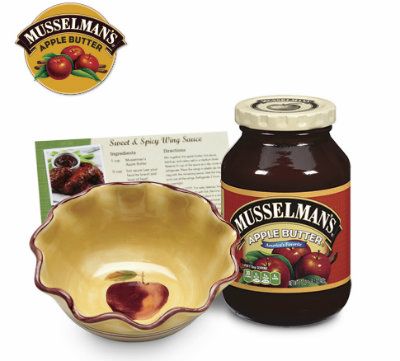 I received a jar of apple butter, an adorable multi-purpose bowl with an apple in the center, and some new awesome recipe cards.
Musselman's sent me these new awesome recipes to try out specifically designated for some big Super Bowl parties. I am not a huge sports fan and instead love the award shows going on. So I rocked a simple but yummy recipe for the Golden Globes.
Apple Butter is awesome because it is a sweet spread for bread and making baked goods but you can add it to a savory dish, too. It's pretty incredible the multi-tude of uses for Apple Butter and every time I think I'm surprised enough they send me some crazy delicious sounding recipes to try out with apple butter as a key ingredient.
I made their super duper easy Caramel Apple Dip because I just so happened to buy 3 apples the day of receiving this package. So all I did was run to the store and buy some caramel sauce because that's literally all you need.
1 cup Musselman's Apple Butter
1/2 cup Caramel Sauce
Directions: Combine ingredients. Serve with fresh fruit or crackers. You can also heat it up and pour over ice cream.
It was like the healthy version of the caramel dipping sauce for apples but still tasted just as good. Sure you still have that caramel dip but combined with the apple butter, it's a little more healthy and even a little more yummy.
The best one that I need to try and may try this weekend because I might be going to a party is their
Grilled Cheese Sliders
. Check out their INCREDIBLE recipe
here
.
Overall, I just continue to get impressed with Musselman's and their apple butter, they're amazing. Definitely check them out especially for some yummy but still a little bit healthy recipes for your Super Bowl or Oscar bashes coming up!
Buy It!
Head on over to
Musselman's website
and browse their awesome selection!
Win It!
ONE winner will receive a Musselman's prize pack like the one above including a jar of apple butter and a multi-purpose apple bowl!
a Rafflecopter giveaway