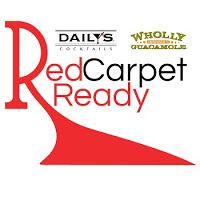 Hey everyone! My next review is for
Wholly's
and
Daily's
! I loveee movies and Daily's/Wholly's asked me to host a pre-Oscar movie party to prepare for the actual Oscars. Yay!
They sent me an awesome prize pack of Wholly products, some classy glasses, a Wal-Mart gift card to purchase some Daily's Cocktails, and fancy little red carpet.
It was so cool and such a cute idea. My roommate and I have dresses that we never have worn anywhere so we put them on, walked down the red carpet, and watched movie. We actually ended up watching Igby Goes Down which is a movie from like 2001 instead of a nominated film but we saw basically all of the ones on DVD that are nominated.
The Wholly products that were sent to me were their:
Red Pepper and Mango Salsa
Classic Medium Salsa
Guacamole and Spicy Pico
Homestyle Guacamole
Spicy Guacamole
Classic Guacamole

We nearly inhaled the red pepper and mango salsa, it might be my favorite salsa in the world. The spiciness of the red pepper and the sweetness of the mango compliment each other really well. We opened up the classic guac too because she isn't a hardcore spicy fan and it was super delicious.
I bought the Pomegranate Acai Margarita mix and it was soooo delicious.
Overall, my roommate and I had an awesome movie night. Really chill but very classy and delicious. Once again Daily's and Wholly's does not disappoint and it was such an awesome time.
Buy It!
Head on over to
Wholly's
and
Daily's
and browse their awesome selection!
Win It!
TWO Winners will win a mega party pack containing a $20 Walmart Gift Card(to purchase Daily's), 3 Wholly Guacamole Products and 3 Wholly Salsa Products.
a Rafflecopter giveaway