H everyone! My next review is for
Scent-Sations: Mia Bella's
. Mia Bella's sells a great variety of amazing candles. They have a great variety of scents perfect for all seasons!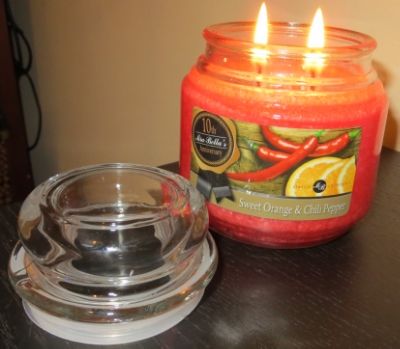 I was sent their
Sweet Orange and Chili Pepper
scent which is one of their most popular scents.
This is such a unique and amazing scent that honestly I would have never chosen just because it sounds weird but it works so well. The sweet orange is a sweet, yummy, fruity smell. But alone, the orange can be too sweet and overpowering, that's where the chili peppery comes in. The chili pepper smell is fairy subtle but mutes the strong orange scent and actually gives it an almost spicy smell, too. It smells so, so good. What's great about a smell like this too is that it isn't seasonal so you can light the candle all year round.
The Sweet Orange and Chili Pepper is apart of their classic collection and there is so many scents to choose from. From biscotti to blueberry muffin, they have it all. It's pretty awesome.
Mia Bella's candles are actually made with natural palm wax. Palm wax candles are designed to burn completely and cleanly with virtually no soot. They also burn long and the wax holds the fragrance longer throughout the burn of the candle. Palm is also an environmentally friendly wax, the coconuts used can be harvested while the tree continues to grow, so no harm done. Awesome!
But Mia Bella's also has a variety of other items too, like car fresheners, bath and body products, and beauty products.
Overall, I was super surprised with how amazing this scent is and how quickly it fills your room just wonderfully. I definitely recommend them!
Buy It!
Head on over to
Mia Bella's website
and browse their great selection!