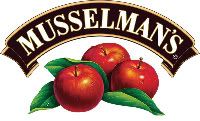 Hey everyone! My next review and giveaway is for
Musselman's
. You may remember I love Musselman's and I've done reviews for them before. You can check out my previous reviews
here
.
Musselman's sent me three 6-packs of their delicious applesauce in
Original, Natural
, and
Cinnamon
! Also an awesome yoga ball with a pump to blow it up, awesome!
The New Year is in full swing, but your resolution to live a healthier lifestyle may have already come to a halt. Musselman's has a simple solution to help you and your family stay on track. It's called the Replacement Resolution. All you have to do is swap out one of your favorite snacks with Musselman's Apple Sauce. It's that easy!
I am a huge snacker, especially with ice cream, you should see my freezer it's loaded with a variety of Ben and Jerry's and random but delicious flavors. From blueberry cheesecake to Cherry Garcia, I have a crazy addiction. I still have some Trader Joe's Pumpkin ice cream too because I REFUSE TO FINISH IT. Until next fall when more pumpkin flavors return. Anyway, Musselman's created this awesome idea to swap out an unhealthy snack with applesauce. So I'm replacing ice cream with applesauce. I also eat a lot of granola bars too and Musselman's says if you replace your granola bar only twice a week you'll save 1064 calories a MONTH, wow!
It's February so you can't quit on your New Year's goals! Stick to your healthy eating regimen, honestly it isn't hard because snacks like these applesauces are good for you but taste so, so delicious. The cinnamon one is legit one of my favorite flavors ever. It's the perfect flavor to get rid of your sweet cravings.
I also love that they sent a yoga ball too because getting healthy and in shape is both eating right and exercising right, too! All you need to do is google some great exercise routines or wing it like I do. You can do some easy push ups and crunches on the ball that really makes you feel the burn.
Overall, Musselman's did not disappoint once again. They're awesome, definitely check them out and take part in the Replacement Resolution, small steps like that and you're on your way to big results!
Buy It!
Head on over to
Musselman's website
and browse their awesome selection!
Win It!
ONE winner will receive a Musselman's prize pack like the one above including three 6-packs of applesauce and a yoga ball!
a Rafflecopter giveaway