Hey everyone! My next review is for
Minute Rice
.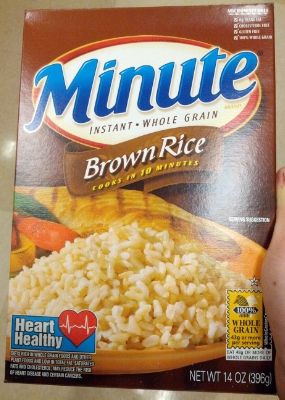 I received a free coupon to purchase Minute Rice so I chose their Brown Rice.
Minute Rice is my go-to rice because it's delicious but also because I'm lazy too. It is quick to make but still just tastes as delicious as regular rice.
I prefer brown over white because I heard it's better for you and I like the taste more. If you like the nutty, rich flavor of brown rice, Minute 100% Whole Grain Brown Rice is a delicious, healthy option, as it has the same nutritional value as regular long cooking brown rice, but it is ready in just 10 minutes. That's 1/4th the time of regular brown rice.
If you like white rice though they have great-tasting, fluffy white rice in just 5 minutes which is pretty awesome too.
A great thing about both flavors of Minute rice is that they are gluten free, too!
But like I said, I made an easy stir fry. You saw it in a previous post, but in case you need a refresher, this is the deliciousness:
I just cooked some tofu, red and orange baby bell peppers, broccoli, and onions in a pot. I added some garlic power and basil, just a pinch. The I poured a bunch of this awesome sauce that I actually reviewed in a previous review for
Aunt Sassy's Sauces
. While the veggies were cooking I started up the rice, cooked it up, then poured the veggies in the sauce over it. Quick, easy, and soooo delicious!
Overall, I love Minute Rice and whether you are a busy parent that's on the go and hardly has time to make a meal for your family let alone sit around cooking rice or just a lazy 20 something like me it is the perfect item for you. Super yummy and super easy to make! Definitely check it out you won't be disappointed!
Buy It!
Head on over to
Minute Rice's website
and see where they sell it near you! They sell it at most grocery stores like Ralph's near me.
Minute® Rice is so quick and easy to prepare and is great pantry staple. When meal time seems like a hassle, Minute® Rice is a go-to ingredient your whole family will love and allows you to have more quality time doing what your want with your loved ones.
Leftover rotisserie chicken or veggies from a meal earlier in the week? Minute® Rice can easily be paired with some of your leftover ingredients to make a quick, easy and wholesome meal your whole family will love in just a matter of minutes.
Visit
http://www.minuterice.com/
to create a great main meal or side dish for your next family get-together or potluck.
This is a sponsored post written by me on behalf of Minute® Rice.