Hey everyone! My next review and giveaway is for
Purex
. You may remember that I know and love Purex and you can check out previous reviews
here
. Purex Crystals are a great fabric softener and smells so great. Now Purex released a new detergent with their awesome Crystals scent.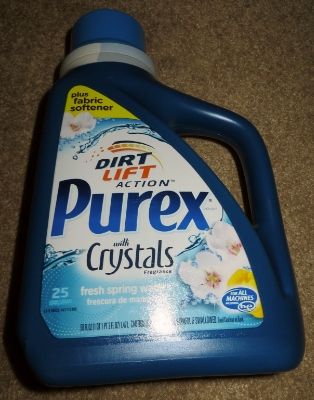 I was sent a bottle of their new Purex with Crystals Fragrance Detergent and it does smell sooo good.
Purex plus Fabric Softener with Crystals Fragrance is perfect for everyday laundry. Loaded with most popular Purex Crystals fragrance, it will enhance your entire laundry experience by bringing the fresh scents of line-dried laundry and clean florals into your laundry room.
I really love the smell of this it smells floral but not overwhelming. It made my clothes smell really, really great too.
Another great thing about this new detergent is that it has DirtLift Action. DirtLift Action works deep into clothes to get out dirt. With this new technology you can be rest assured that your clothes will stay bright, white, and clean after using this baby.
Overall, Purex once again does not disappoint. They make your clothes feel and look amazing, there's no fading or anything. I want to say I was really impressed but I wasn't because I expected the best out of Purex and they totally delivered. I definitely recommend it to moms and families in general that have babies or even people that are easily irritated by certain detergents. Definitely check them out you won't be disappointed!
Buy It!
Head on over to
Purex's website
to find out where they sell Purex with Crystals Fragrance near you!
Win It!
THREE winners will receive one Purex Free Product Coupon!
a Rafflecopter giveaway