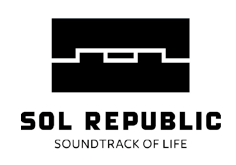 Hey everyone! My next review is for
SOL REPUBLIC and tokidoki
. They fuse art with music to create two new Tracks HD on-ear headphones featuring SOL REPUBLIC's signature interchangeability, amazing sound, and virtually indestructible design, these two exclusive Tracks HD headphones integrate colors, characters and trendsetting designs that are signature tokidoki.
I received a pair of their
tokidoki Tracks HD On-Ear Headphones
to review.
These headphones are really, really cool. The tokidoki pattern is really cool, bright, and different from those other boring big headphones. They are really cushiony and comfortable plus they hold a lot of sound.
The headphones and headband are separate. You just slip the headphones onto the headband and move them up and down to fit to your head. The headband also has a a cushion on the top so it doesn't irritate or bug the top of your head.
The cable is also interchangeable. It has three outlets, one for the iPod or music player and two for each headphone. It also has a volume control so instead of grabbing for your ipod or phone you can change it right on the cable. Also it has a pause button which is great, too, especially if you listen to music on your phone. You can simply pause the music while you get a phone call, answer the call, then go back to the music. Yay!
It also comes with a traveling case which is a great idea too. I also like how you can take apart the headphones and slip them in this case so they don't break and are kept safe. The headband though can be twisted and everything, it is super sturdy and hard to break.
The story of these headphones are basically tokidoki teamed up with SOL REPUBLIC to create an awesome design for new SOL REPUBLIC headphones. To learn more about the man, the artist, the creator behind tokidoki check out this cool video here:
Overall, I love these headphones. The sound is really crisp and clear. The headphones are really comfortable and stylish. They're just a really great pair of headphones. Super unique but great quality, too. Definitely check them out you won't be disappointed!
Buy It!
Head on over to
SOL REPUBLIC's tokidoki page
where you can purchase a pair online! Also remember to follow
SOLREPUBLIC on facebook!
Win It!
ONE winner will receive the same pair of awesome headphones I received!
a Rafflecopter giveaway