Hey everyone! My next review is for
Combat
. Combat, as you all may know, is a great critter killing brand. I've reviewed them before and you can check out previous reviews
here
.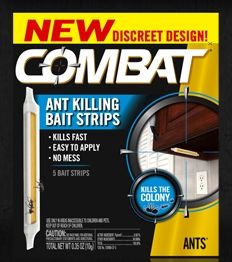 I was sent their
Ant Killing Bait Strips
.
Spring time, it's that time of year where everything blooming, the weather is getting warmer, and the ants apparently wake up and annoy the crap out of you. So far, so good though but every now and then they just like to crawl around my bathroom. Fortunately, I'm prepared with these babies.
These Ant Killing Bait Strips are designed to kill the nest and colony that are beyond your reach -- attacking the source of the pest problem. Simply place the bait strips wherever you have seen ants. For maximum effectiveness, all bait strips should be used at one time and replaced once the bait has been consumed, or as indicated on the package.
It is super easy to use you just stick it under a cabinet or anywhere and it does the job. They leave no mess. The unique gel bail formula contains food and water that ants seek, combined with Fipronil, a fast acting insecticide that begins killing within hours once the insect has come into contact with the bait.
Definitely check them out if you want to get rid of pesky ants, they also have a roach one too! Combat is a great company that gets the job done!
Buy It!
Head on over to
Combat's website
and browse their awesome selection!