Hey everyone! My next review is for
Karen Kane
. Karen Kane is a great clothing company that sells a variety of amazing clothes for women. With spring here and summer around the corner it's time to go shopping for the latest trends and Karen Kane definitely has them!
I chose one crochet blouse, the one above, and they ended up sending me an additional four blouses! I was so surprised and insanely grateful. Plus, they're all awesome. It's as if just by choosing that one piece they had my taste down! They really know their customers so well. So instead of doing an overall review I decided to review each piece wearing them in different outfits. I apologize for not showing my face but I just got out of the shower and was a mess and didn't want to ruin the outfit photos, haha.
The first one I love. It's such an easy piece you can dress it up or casual like I did. Add some nice slip on shoes like moccasins or flip flops and you're good to go. Now that it's getting warmer out you can totally rock this with jeans too or try it over a maxi or as a cover up for your bathing suit. I don't have many white shirts so I was super excited for this one and it definitely didn't disappoint.
This top is a really nice lace top but with long, wavy sleeves. Similar to a poncho but way nicer. I tried to go for that music festival vibe here. I wore my bathing suit underneath and my little peace sign flip flops. It makes for a great cover up or hippie-esque top perfect for Coachella or any other music festival. Plus the color is amazing. It is a bright, lovely color perfect for the warm seasons coming up but still easy to go with jeans or any other colors. It's lose and comfy too, I love the sleeves.
This one I was unsure about because it looked tight fitting on the hanger so I thought I was going to look a little chub in it but it turns out it looked awesome. With the lose overlap of the shirt sides, the scrunchiness of it kind of sucks you in. It doesn't look wrinkly either, especially with the sequins it just looks kind of perfect. Not sure if you can tell but the front body of the shirt is sequins minus the sleeves and arms. It has a low neck so you need to wear an undershirt but it's a great shirt. Perfect for a night with your girl friends or even first dates. The sequins aren't overwhelming either, but just right.
I love this shirt, but I kind of knew I would. I am sucker for black lace and have at least two other shirts like this. Red pants, black lacy shirt, and boots are kind of my uniform. It never gets old for me though. The back has a nice button detail too. But this is a great shirt to even put a nice bright tank underneath and jeans to make the lace pop more. ButI think with a black tank under the lace pops just enough on your arms and neck because it is a high neck shirt. I love it, it's a classic, almost like the first piece, it can go with nearly anything.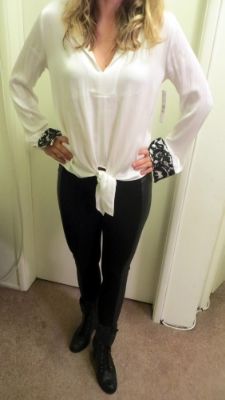 This shirt I was most surprised about, well the sequin one too. But this one I thought it wasn't my style. I'm not a fan of white blouses and the lace detail at the end of the sleeve looked too different for me but I LOVE it. I feel like Steven Tyler wearing this outfit...in an awesome way. Sometimes you want to dress like a rockstar and this is the shirt to do so. It's loose fitting and looks great with my tight leggings with pleather on the side and high heel boots. The sleeves are baggy and you can button them, but I like leaving them loose, it feel more rockstar. The knot on the bottom gives it a nice feminine detail so it's not too Shakespeare or Steven Tyler and more lady like. I love the low v-neck, too. It's lightweight too and so, so nice.
Overall I was insanely impressed with Karen Kane. Their pieces are amazing and made with such great quality. I know these pieces will last me a long time as long as I take good care of them. Another great thing about Karen Kane's clothing is that they're made in the US. Definitely check them out, they have such beautiful pieces you may be on their website for a while, but they're worth it!
Buy It!
Head on over to
Karen Kane's website
and browse their great selection. Check out their new maxi's perfect for spring!