Hey everyone! My next review is for
BabyGanics Sunscreen
. You may remember I reviewed their face and hand wipes recently and you can check out that review
here
.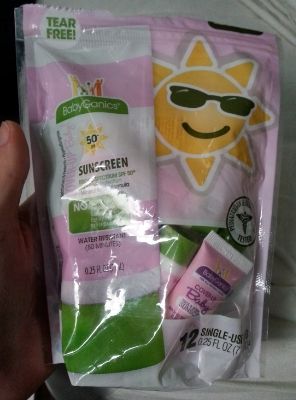 They sent me a bag of 12 bottles of their single use sunscreen. They're tiny, awesome, and easy to carry around! Literally, they're about a small as a tube of chapstick.
The BabyGanics Cover-Up Baby Sunscreen is 50+ SPF, water resistant (up to 80 minutes), it also has No parabens, suflates, artifical colors, fragrances, gluten, nuts, etc. Basically it is perfect for babies!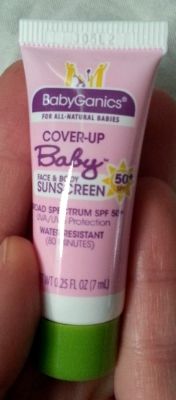 I actually am not a mom so I don't have any children for this sunscreen BUT I still wanted to review it because you don't need to have children to use BabyGanics, it's great for everyone! For instance, I burn insanely quickly because I'm Irish so I need high SPF. But after a while of using the same sunscreen bottle it gets kind of gross, at least mine do and just become watery gross lotion. This will never do that because you just use the little bottle once and you are set! I also like the idea of these little travel bottles because you can carry them everywhere in your car, in your purse, where ever! Sometimes I go on random day trips or I'll go hiking and forget sunscreen and proceed to burn, that won't happen now! I can toss a few bottles in my purse and car and I will be safe from the sun.
The consistency of the lotion is nice too, not oily or too sticky. Overall, I was pretty impressed with BabyGanic's sunscreen. Definitely check them out! You won't be disappointed.
Buy It!
Head on over to
BabyGanics' website
but they also can be purchased at Babies R Us, Buy Buy Baby, and online at
Amazon.com
.