Hey everyone! My next review is for
Devo Olive Oil
. You may remember that I have done a review for them in the past and you can check them out
here
. I recently became a Devo Diva too so be on the lookout for even more awesome reviews and recipes!
The flavors for the month of June are:
Tangerine Balsamic Vinegar
Roasted Almond Oil


I unfortunately lost the photo of the two of them that I took and while I still have some of the toasted almond oil left I used up the tangerine balsamic vinegar. But you guys know what oil and vinegar looks like, the important thing is what you can make with it! I really enjoyed the Roasted Almond Oil, I actually have a fish from Omaha Steaks that I eat called Sole Almondine and it has roasted almonds on it. It's pretty easy to prepare, you just warm it up in the oven, but I put it on a foiled pan and oil it so it doesn't stick so I actually ended up using this oil so it wouldn't stick and it really boosted up the roasted almond flavor and tasted delicious with the the fish. They complimented each other well. I'm saving it though to try and think of another recipe I can use it with because it's a super tasty oil. I may make a dessert or veggie recipe using this, I'll keep you posted!
The tangerine balsamic was really great too. I love sweet and fruity balsamics. I am a salad addict and always use balsamic as a dressing but the fruity balsamics are even better with the salads. So the first recipe is this delicious salad I put together.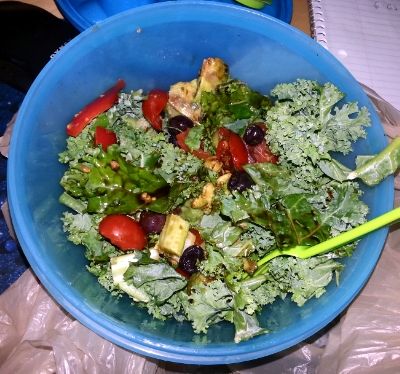 Super easy to make, basically any salad is in my opinion, you just put together your favorite things that go together with some greens and eat them. I like to call this one my fully loaded salad because it has quite a bit.
Ingredients:
About two handfuls of Kale
A handful of blueberries
1/4th of a yellow pepper chopped up
About 8 grape tomatoes cut in halves
Half of an avocado
About 1 oz of Tangerine Balsamic
Just combine all ingredients in a bowl, bring it to work with you, and eat it for lunch! At least that's what I did. It tastes pretty delicious. I know a few people think it's odd that I combine fruits and veggies in my salads but it really does taste good. They all compliment each other pretty well. Especially using a fruity balsamic, it all works.
Once again, Devo Oil didn't disappoint. I'm not a huge tangerine fan, to be honest I don't really think about them too often that's why I'm not a huge fan, but the balsamic was delicious and the Roasted Almond Oil is definitely my favorite oil so far.
Overall I was really impressed with these flavors. Definitely check out Devo Olive Oil because they have such a great selection of olive oils and balsamic vinegars. Almost every flavor under the sun! If you like any type of oil or vinegar you will definitely like Devo Olive Oil!
Buy It!
Head on over to
Devo Olive Oil's website
and browse their huge selection.