Well, Week 2 Accomplished! Well, technically it was my first week because I was sick the original first week doing
Revolt Fitness
and I think I did pretty well.
Revolt Fitness is great because it gives you the options to follow their meal plan or make substitutions, well, at least every week but the detox week. The first week is the "detox week." I did okay. I found it hard to fit in 5 meals in a day and I wasn't really hungry for them all. I actually did have to substitute some though because I am vegetarian and three meals involve chicken and sirloin. But honestly, most days I only did three meals because my work schedule is so crazy I can't really pack my meals because some of my jobs don't have microwaves accessible. I suck at diets, I always have and I need to train myself to commit more. Unfortunately though, my mom is visiting next week and I know I won't be sticking to the schedule...but I do have a month, so hopefully by the end I'll have trained myself to follow it more and maybe my work will be less crazy.
My favorite meal though was breakfast, we had to make Banana Crepes which were similar kind of to pancakes to me and while I did suck at making them they did taste quite delicious. And I did improve on making those check it out.
Day 1 Banana Crepes:
Day 6 Banana Crepes: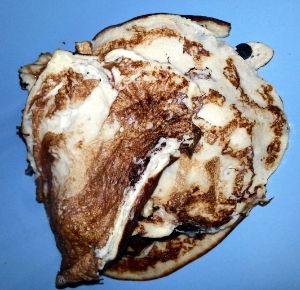 Not too shabby right? Too good too! And all they are are egg whites, bananas, 1 egg, and a sprinkle of vanilla!
Working out was a lot easier for me, I managed to fit in most of the workouts and let me tell you I HATE PLANK TO PIKES. In a love/hate way though, I mean I know they're working but I just HATE doing them so much.
Revolt Now Fitness's workout plan consists of 3 days of week doing a Guts and Butts Circuit set, 1 day working on a Lower Body Sculpt, and 1 Day working on an Upper Body Sculpt. The only workout I missed was the Lower Body one because I took a Nike Training Camp class that day which is one of my favorites though don't worry we did do many squats and lunges that made up for the ones I missed. I also included a run workout and I did miss one Guts and Butt Circut because I actually ran the
ROC Race 5k
today which was super fun.
My friend Karon and I dressed as the Green Monkeys from Legends of the Hidden Temple. Aww yeah!
But I really did love the workouts, it kind of opened up a new world at the gym for me. I usually go for the classes, sometimes if it's bad weather (as if) or hot out I'll run on the treadmill or go in the pool but now I really want to just work on the weights and even just do floor exercises there. Improve my pushups, stuff like that.
Overall, I am really digging Revolt Now, yeah I didn't do it 100% but I think I did pretty well for my first week and although my mom is visiting and we will eat out a lot...hopefully I'll stick to healthier options and stick to the gym still too. But I did notice a difference, I am less bloated, eating full meals really helped me from snacking. I'm pretty excited to see where the changes continue to take place!
Start It!
Head on over to
Revolt Now Fitness's website
and check out the program!