One of my favorite dinners to have is stir fry just because it is so easy to make, you can cater it to what you're in the mood to eat by adding certain vegetables, and it is delicious. So when I received the opportunity to review San-J that is exactly what I decided to make.
San-J
is a great company that has a variety of delicious soups, sauces, crackers, and seasonings.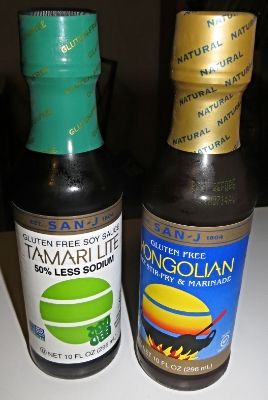 I received the following:
Mongolian Beef Stir Fry and Marinated
Tamari Lite Soy Sauce


I actually tried the soy sauce with sushi that I bought. This soy sauce is gluten free, certified kosher, contains no GMO's or MSG, and contains 50% less sodium. Whenever I am at a sushi place that has the less sodium soy sauce I go for that option all the time. There isn't a huge change in taste and I felt that way with this soy sauce, too. It tasted just as good, maybe even better than regular soy sauce because it didn't taste as salty. It's also great that it is gluten free. This soy sauce is made from 100% soybeans with no wheat. Most soy sauces nowadays contain or use 40-60% wheat. Not only is it saving you from sodium but also wheat and still tastes great, awesome!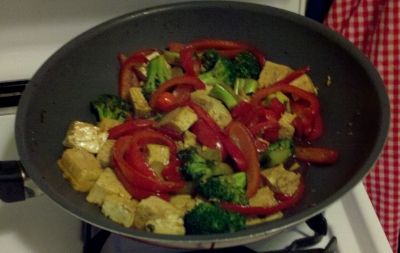 The other product was the Mongolian Beef Stir Fry, like I mentioned above, and it was good. My roommate and I both made it. Because I'm pescatarian I had tofu and she had chicken. This sauce, much like the soy sauce, is gluten free, certified kosher, and contains no GMO's, artificial additives or preservatives.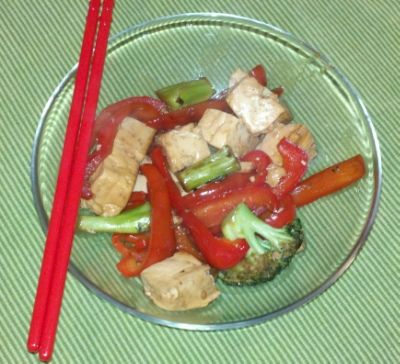 It was easy to use just like all stir fry sauces. We marinated the tofu in the tofu press for two hours. Cooked the vegetables with some garlic powder and olive oil. Then combined the vegetables and the tofu in the wok, added some more sauce, and cooked it for another 15 minutes. You don't have to marinate the tofu that long but my roommate recommended doing that just because then the juices are super in tofu. If you're short on time you can definitely marinate the tofu while the vegetables are cooking. It is described as the perfect blend of sweet and savory with accents of garlic and ginger. It's like a sweet soy sauce but with a little more flavor. It didn't have a strong flavor. This is where my roommate and I differed, she liked it because it was light enough to not overpower the taste of the veggies. I prefer a stronger taste for the sauce because tofu has no flavor so I felt it needed a little more kick. I think it'd be a great marinade for beef and meats, probably even fish, too because they have a lot of flavor even without sauce. It just needed more of a kick though with tofu. I definitely want to try it again and plan on making more stir fry with it but with just a better protein.
Overall though I really did enjoy both sauces and definitely recommend San-J because they have such a great variety of delicious items, you'll definitely find something your tastebuds will enjoy!
Buy It!
Head on over to
San-J's website
and browse their awesome selection!