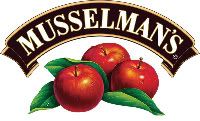 You guys know I love Musselman's they're the best. One of their best products (even though it is SO difficult to choose) is probably their apple butter. Mainly because I'm a sucker for those butter's like pumpkin and apple. But also because they are so versatile. Sure you can spread it on toast or a bagel like the usual and it's delicious but did you know you can also add it into your cottage cheese or greek yogurt? What about baking with it? YES! You can use it for baking! How? Why let me show you... Musselman's was awesome enough to send me a jar of their delicious apple butter as well as a Wilton Armetale Fish Griller pan which is pretty legit. I unfortunately had no fish handy, but I do plan on using it in the near future. If I had to choose baker or cooker I am a definite baker and that is what I did.
Musselman's website has an insanely awesome recipe selection. You can choose by ingredient like apple butter or apple sauce to see what you can make. They have everything too from beef marinade to baked beans to caramelized onion baked pizza. I ended up choosing their cinnamon oatmeal bars.
I made these yesterday and they're all gone today...because I'm gross basically, but also because they are so delicious! Here's the recipe:
Ingredients
• 1 cup flour
• 1 cup old-fashioned oatmeal
• 3/4 cup light brown sugar
• 1/4 teaspoon salt
• 8 Tablespoons bu=er, melted
• 1 cup MUSSELMAN'S® Apple Butter
Directions
1. Pre-heat oven to 350°F. Coat an 8x8-inch baking pan with vegetable cooking spray. Line with heavy-duty foil, leaving an overhang on two sides to facilitate removal of bars from pan. Coat foil with cooking spray.
2. Mix flour, oatmeal, sugar, and salt in a medium bowl. SJr in bu=er with a fork unJl well mixed and clumps form, and then spread half the oatmeal mixture over foiled pan bo=om, pressing to form a thin crust.
3. Spread apple butter over crust and then sprinkle remaining oatmeal mixture on top.
4. Bake until crisp and golden brown, 30-40 min.
5. Cool to room temperature. Use foil "handles" to remove bars from pan. Cut into squares and serve.
These were so delicious, clearly, since they're all gone. They are a bit messy, mine didn't form into bar-bars, they were crumbly but hey they were so good. They're the perfect dessert for those summer BBQs and picnics or if you're doing some camping during the summer take these for the road trip or eat for breakfast, they hit the spot.
Overall, I love Musselman's and their apple butter is the perfect addition to summer recipes. Browse their recipes online for inspiration because there's so many good ones. Musselman's did not disappoint once again. They're awesome, definitely check them out!
Buy It!
Head on over to
Musselman's website
and browse their awesome selection!
Win It!
ONE winner will win a Musselman's prize pack like the one I received above!
a Rafflecopter giveaway