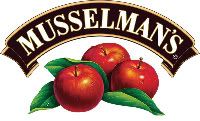 Fall is finally here, school is back in session, and pumpkin-flavored everything is everywhere but don't give into temptation! You worked hard on eating healthy, working out, the pumpkin latte can wait! That's why Musselman's is here to help you out.
As you know, Musselman's has a great variety of apple-related products, but nothing is as great as the original: their applesauce!
I received a jar of Musselman's Unsweetened Apple Sauce and our their Musselman's Big Cup Apple Sauce. Their big cup apple sauce is new and the perfect lunch snack for your kids or yourself. I usually bring a granola bar with me for a midday work snack but have been swapping that out with these apple sauces and they're delicious.
I also received a cool drawstring bag that has an extra zipper area and a place where your head phones and go through. It's perfect for traveling or for school.
It also came with some great recipes to make with your applesauce like rocky road brownies and peanut butter banana muffins. I don't believe all of the recipes are on the website yet but you can check out most of them
here
.
Here's the Rocky Road Brownie recipe:
Ingredients
1 package family size brownie mix
1/4 cup Musselman's Unsweetened Applesauce
1 egg
2 cups mini marshmallows
1/2 walnuts, chopped
1/4 cup mini chocolate chips
2 Tbsp water
Instructions
1. Preheat oven to 350 degrees. Mix together brownie mix, apple sauce, and egg. (Batter will be lumpy.)
2. Spread evenly into a greased 9x13 inch baking pan. Bake according to box directions.
3. Sprinkle marshmallows, nuts, and chocolate chips on top. Bake an additional 3 to 5 minutes until marshmallows are just starting to brown.
4. Cool completely and cut into bars.
Sounds delicious and I definitely plan on trying it out in the future. They also sent a great substitution chart for baking which you can find in the recipe section of the website. It shows that you can substitute applesauce for vegetable oil when baking for a healthy, yet still delicious, alternative.
Overall, Musselman's doesn't disappoint again!
Buy It!
Head on over to
Musselman's website
and browse their great variety of applesauces and food. Also head on over to your local grocery store and pick up some Musselman's! Click the "find us in a store" tab to see where they sell it near you!