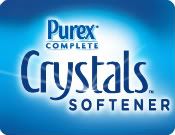 Hey everyone! Purex is at it again just being even more awesome. We know and fell in love with their crystals softener but now they amp'd it up and created Purex Crystals ScentSplash.
Purex Crystals ScentSplash is a new liquid in-wash fragrance booster that infuses your clothes with the power of liquid freshness. Just add a little or a lot to your washer.
I received it in their "fresh spring waters" scent which smells so great. Their description says: "Wade into cool, enchanting waters and five your laundry an incredible just-wshed freshness that lasts for months."
It contains refreshing scent beads that release subtle bursts of freshness with every wearing. It's safe for all loads including towels, sheets, activewear, and kid's clothing. You can also use it on regular or HE washers.
I am actually doing my laundry as we speak and used this ScentSplash. The first load left smelling amazing. I'm sure the scent will last a long time, too.
Once again I wasn't disappointed with Purex and their great products. They always come out with something new that's better than the product that you fell in love with them originally. Definitely check them out, you won't be disappointed!
Buy It!
Head on over to
Purex's website
and browse their awesome selection!
Win It!
THREE winners will receive a free product coupon each for Purex Crystals!
a Rafflecopter giveaway