I was lucky enough to do my first review on
Cowgirl Chocolates
. This past Monday I received a package filled with the chocolates. The little box was gift wrapped and looked so sweet I almost didn't want to open it…but it's chocolate, and that I couldn't pass up. Inside the box were eight truffles separately wrapped in their own colored foil and one caramel.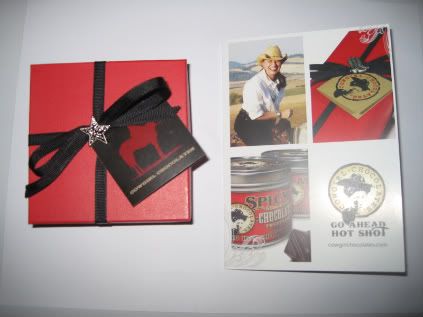 Here's the list of flavors I tried:
- Double Dark Chocolate
- Raspberry Lemonade Dark Chocolate
- Spicy Hazelnut Milk Chocolate
- Spicy Cappuccino
- Ivory Orange
- Spicy Raspberry Dark Chocolate
- Pure Milk Chocolate
- Buckin' Hot Habanero Caramel
A lot of flavors I was surprised that I actually liked them. Like the
Raspberry Lemonade Dark Chocolate
, I'm not a huge raspberry fan but I feel like the lemonade flavor really complimented the raspberry flavor so it wasn't so overbearing and the dark chocolate made it perfect. But my favorites were the
Double Dark Chocolate
because I'm a dark chocolate kind of girl, and the
Spicy Cappucino
. The
Spicy Cappuccino
actually tasted like coffee not the coffee flavor, if that makes sense. Also the spiciness with the cappuccino flavor actually made for a great combination and the complimented each other really well, it was really good. I also liked the
Buckin' Hot Habanero Caramel
, but watch out because it was really Buckin' Hot.
The spiciness and the chocolate actually was a great combination! As the website says:
"Cowgirl Chocolates are sweet and spicy gourmet chocolates for adventurous chocolate lovers and packaged as unique beautiful gifts for any and all occasions.
Buy them!
Head on over to
CowgirlChocolates.com
to purchase some of your favorite truffles! Also if you sign up for the Head Cowgirl's updates and specials you receive a one time free standard shipping. Just make sure to let them know in special instructions.
Disclaimer-
I was provided a product in exchange for my review.
You can read more about my blog policies in my disclaimer.