Hi guys! So I was lucky enough to be sent some
YOYO Lipgloss
products in the mail. It was so nice because not only did I receive the four flavors of lip gloss but also a tank top, and a folder telling me some more information about
YOYO Lip Gloss
including pictures of
YOYO Lip Gloss
in the press, press release, some upcoming products that the YOYO brand will be coming out with this spring, and some information about Angie Parlionas who is the founder of YOYO.
The flavors I received were:
- Pink: Kissable Kiwi
- Red: Girly Green Apple
- Brown: Cha-Cha Chocolate
- Clear: Big Bounce Bubblegum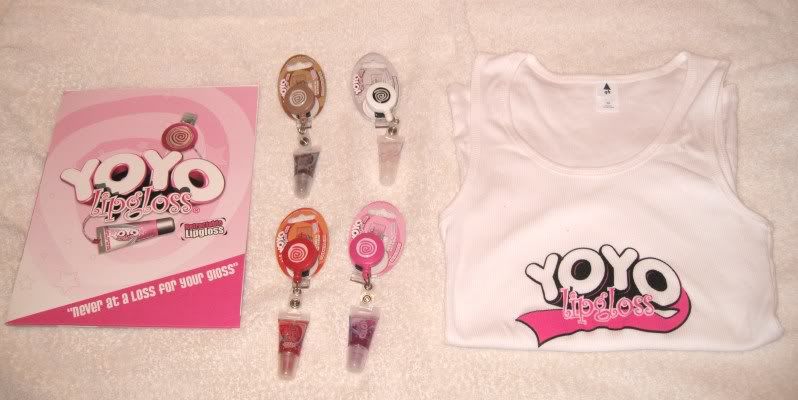 Let me tell you I was so surprised with this lip gloss. I saw the commercial that's on Nick and I figured it might just be for little girls but this lip gloss is seriously for girls of all ages that love lip gloss. And the flavors smell soooo good! Like they actually have the same smell as real chocolate and real bubblegum do not that weird artificial smell as a lot of other lip glosses have.
They taste really good too, they don't have that nasty lip gloss taste as some lipglosses do. But nope, when you lick your lips with these you can faintly taste the flavor but also it kind of tastes like you're not tasting anything at all, which is a good thing. It reminded me of chapstick because of the whole licking your lips and you don't' taste anything but also because when you put these lip glosses on it has like cool tingly sensation like chapsticks have.
The colors too weren't overpowering like how some lip glosses tend to be too lipsticky. For instance, I'm a pale skinned girl and when I put on the brown colored
Cha-Cha Chocolate
I don't look like a goth or whatever it just tints my lips a little brown, which is great!
Another really cool thing with this lip gloss is that it's attached to a bungee clip so you can clip it onto your purse, pants, keychain and actually not lose it! Which is great because for me I always have like 2 or 3 different lip glosses in my bag because I always lose them. Here you can just clip it onto your bag and as the company says you won't need
"a search warrant to find your gloss."
Buy It!
Head on over to
YOYOLipgloss.com
where you can purchase each individual flavor for only $2.99! Check back in the spring where they'll have more products like nailpolish and eyeshadow too!
Win It!
I'm giving TWO lucky winners a set of all four of these yummy flavors of
YOYO Lip gloss
and the tank top too! All you have to do is:
1. Go to
YOYOLipGloss.com
and comment on this post telling me what new YOYO product you're most excited to see in Spring 2010 and why.
Please answer this question or else your comment will not count! It has to be a new product coming out in the Spring! You must do this first or future entries will not be counted.
(1 entry)
BONUS ENTRIES
2. Subscribe by Email and Confirm that Subscription (1 entry)
3. Follow StarIMPULSE on Blogger. (1 entry)
4. Follow me on
Twitter
. (1 entry)
5. Tweet about this giveaway and send me a direct link to that tweet, you can do this once a day. (1 entry per day)
6. Add my StarIMPULSE button to your sidebar and send me think link to your blog so I can see it. (1 entry)
7. Add StarIMPULSE to your blogroll (using my URL), with a link back to me! (1 entry)
TWO Winners will be chosen on March 12, 2010 at 8pm (EST) and then will be emailed.
Alternate winners will be chosen if winner does not respond after 48 hours. Thank you and good luck!
As seen on CashNet Sweepstakes
Contests and Sweepstakes
Disclaimer-
I was provided a product in exchange for my review.
You can read more about my blog policies in my disclaimer.
IF YOU DO NOT CORRECTLY ANSWER MY CONTEST QUESTION, YOUR COMMENT WILL BE IMMEDIATELY REJECTED.