Hi guys! So my next review is for
Kaponga: The Cream Perfume Company's Organic and Natural Perfumed Body Moisturizers
. I received two normal sized tubes of the perfumed body moisturizers, one smaller sized tube, and three creamed perfumes.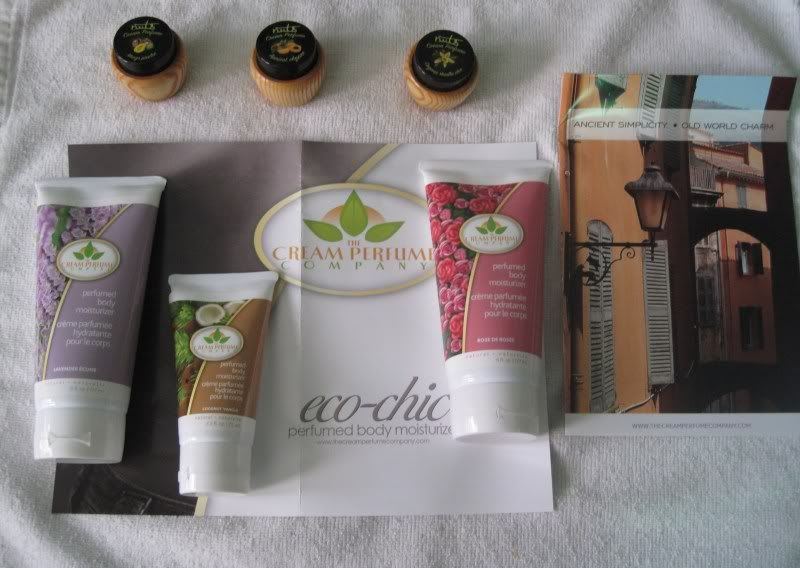 The fragrances I received were:
Body Moisturizers:
- Lavender Écume
- Rose de Rosée
- Coconut Vanille

Creamed Perfumes:
- Organic Vanilla rêve
- Apricot chypre
- Mango poudré
Like any girl I'm a big fan of lotions, but I'm not those crazy girls that carry around lotions then put them on in class or whatever, I like to use them after showering or in the morning. I like really nice smelling ones too, I actually have a coconut lotions so I was super excited to receive the
Coconut Vanille
. But the rose and lavender smelled wonderful too. What I liked about the lotions perfumes was that at first the scent was really strong but once you put the lotion on the smell toned down and actually smelled very natural and light while still smelling pretty good.
The creamed perfumes were very cool too. My grandma back in the day had this tiny little metal container with like a fake diamond on it and inside would be her creamed perfume, it's kind of exciting to see that it's getting a comeback. The three scents were really lovely too. They didn't just smell like their flavors because they had a little perfumey kick to them. The creamed perfumes though they aren't as light-smelling as the lotions aren't overwhelming either. When you first put them on they smell very strong but the scent softens once you rub it in. My favorite was actually the Apricot chypre. I'm typically not a big apricot fan, but mainly because there's not many apricot scents out there or I don't even think I've actually ever eaten or seen an apricot at my grocery store but I think that's because I never really look for them. But if apricots taste like this perfume smells, I am going to start eating them because it smelled sooo good! It was very invigorating and refreshing.
As for greasiness/oiliness I didn't feel any. There's a lot of lotions out there that after I put them on I have to like wipe some of it off my hangs because it's so sticky but I thankfully did not have that problem with these!
Best of all they are made with organic essential oils to combat dehydrated, sore, inflamed and damaged skin They are also not tested on animals, and made with 100% Healthy Natural And Organic Ingredients. So no synthetic fragrances!
I also loved how the little creamed perfumes were in wooden cases, so you can throw them anywhere and not have to worry about them getting ruined!
Buy It!
Head on over to
The Cream Perfume Company's Website
where you can purchase these fragrances and more, prices vary from $7 to $14. So check them out!
Win It!
I'm giving THREE lucky winners a product of their choice from
The Cream Perfume Company's Website
! All you have to do is:
1. Go to
The Cream Perfume Company's Website
and comment on this post telling me what product you'd want to win from
The Cream Perfume Company's Website
.
Please answer this question or else your comment will not count! You must do this first or future entries will not be counted.
(1 entry)
BONUS ENTRIES
2. Subscribe by Email and Confirm that Subscription (1 entry)
3. Follow StarIMPULSE on Blogger. (1 entry)
4. Follow me on Twitter. (1 entry)
5. Tweet about this giveaway and send me a direct link to that tweet, you can do this once a day. (1 entry per day)
6. Add my StarIMPULSE button to your sidebar and send me think link to your blog so I can see it. (1 entry)
7. Add StarIMPULSE to your blogroll (using my URL), with a link back to me! (1 entry)
THREE winners will be chosen on March 15, 2010 at 11pm (EST) and then will be emailed.
Alternate winners will be chosen if winner does not respond after 48 hours. Thank you and good luck!
Check out my other giveaway going on for YOYO Lipgloss
here
!
Disclaimer-
I was provided a product in exchange for my review.
You can read more about my blog policies in my disclaimer.
IF YOU DO NOT CORRECTLY ANSWER MY CONTEST QUESTION, YOUR COMMENT WILL BE IMMEDIATELY REJECTED.