Hi guys so my next review and giveaway is for
Bubble Chocolate
!
I received one bar of milk chocolate and one bar of dark chocolate in the mail from them.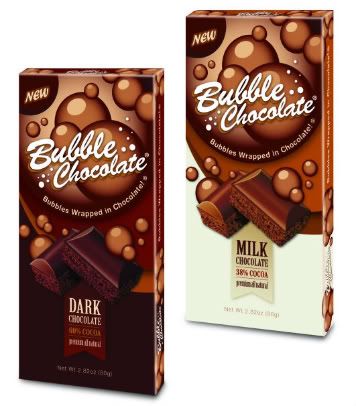 I loved Bubble Chocolate! Well, I actually liked the dark a lot more than the milk but that's just because I like dark chocolate more in general. It kind of reminded me of these mint chocolate bars that I had in London called Aero Bars, they had the bubble thing going on too except with mint inside and those were delicious. But so was this Bubble Chocolate.
It was a lot lighter than regular chocolate, though pretty much the same amount of calories. You can probably eat more of this than regular chocolate and considering they're the same amount calories that might be a bad thing because you could end up turning into a fatty eating it all. As long as you have portions control you'll be fine. Also this chocolate is a bit thicker than regular chocolate because of the bubbles so it actually has less calories in volume, if you think about it that way.
But seriously this chocolate was so good, I feel like the dark chocolate wasn't as bitter as it usually is and instead a little more sweeter than most dark chocolates I've had before. It was pretty delicious. The milk chocolate I'm really not going to judge because I'm not a fan of any milk chocolate, but my parents thought it was good but not as sweet as regular milk chocolate.
The texture is also really cool, they do have the little pops of bubbles in it and so it's very different than the smoothness of a regular chocolate bar. But I liked it, I liked to just suck on a piece for a while and just enjoy it.
It is kind of an acquired taste though, I can see how people can not like it because it's very different than a regular chocolate bar, to sound kind of cheese it is very European. I know their Aero bars is pretty popular there and their chocolate isn't as sugar sweet as ours (trust me I've tried it), and though I had my dislikes with European chocolate the one I particularly did lie was the Aero Bar and maybe because I liked that, I liked these. It's not a plain old bar of chocolate, it's a bar of chocolate with a special twist and you taste that twist as you pop a piece of this into your mouth! Mmm! :)
Buy It!
Head on over to
Bubble Chocolate's website
to order some for yourself, it's free shipping but I believe they sell them per case and it's $40 per case. So try checking the
Store Locator
to see if there's a store selling them near you!
Win It!
FIVE winners will receive two bars of
Bubble Chocolate
(one dark and one milk) for themselves!
1. Comment telling me what's your favorite dark chocolate or milk chocolate.(1 entry)
BONUS ENTRIES
2. Subscribe by Email and Confirm that Subscription (1 entry)
3. Follow StarIMPULSE on Blogger. (1 entry)
4. Follow me on Twitter. (1 entry)
5. Tweet about this giveaway and send me a direct link to that tweet, you can do this once a day. (1 entry per day)
6. Subscribe to my YouTube channel. (1 entry)
7. Add my StarIMPULSE button to your sidebar and send me think link to your blog so I can see it. (1 entry)
8. Add StarIMPULSE to your blogroll (using my URL), with a link back to me! (1 entry)
FIVE winners will be chosen on April 5, 2010 at 8:00pm (EST) and then will be emailed.
Alternate winners will be chosen if winner does not respond after 48 hours. This contest is only open to people in the contiguous 48 states. Thank you and good luck!
Disclaimer-
I was provided a product in exchange for my review.
You can read more about my blog policies in my disclaimer.
IF YOU DO NOT CORRECTLY ANSWER MY CONTEST QUESTION, YOUR COMMENT WILL BE IMMEDIATELY REJECTED.