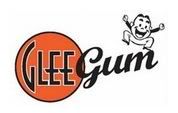 Hi guys! So my next review and giveaway is for
Glee Gum
! I received 4 little packets of Glee Gum, a Make Your Own Gummies Kit, and a sweet coupon to buy one glee gum get one free!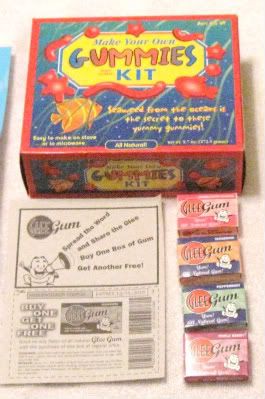 I decided to pick the make your own gummies kit because I thought it'd be interesting to see how they're really made by making them myself!
I picked a nice day to make these gummies, when there was a huge rainstorm and I was stuck inside. So it's a fun thing to do on a rainy day. I just wish some sort of molds came with it because the molding powder didn't work very well for me and the gummies were more like gummi blobs. On the instructions it said to use magnets, cookie cutters, or the back of the teaspoon and I didn't have the first two and was kind of confused by the 3rd one so I ended up using a soda cap and yeah it didn't really work out. I also wish it said in the instructions to add the sour mix somewhere but it didn't and I forgot about it and I love sour gummies! :(
Edit:
Molly from Glee Gum cleared this up for me and it was #11 in the instructions so I'd just follow
these online instructions
just in case the instructions in the box doesn't say it.
Well in case you didn't know, gummies are made with seaweed so I thought it was pretty cool that we had to like let the seaweed chill out in some water and some gel formed around it.
The gummies taste was pretty good. I mean of course they're not going to be as delicious as Haribo Gummi Bears but you know for homemade gummies they weren't too shabby.
It was a very long process though, creating these little blobs, just mainly because the molding powder kept messing up and, yeah. But hey it was something fun to do. Like instead of baking on a rainy day you can make some gummies! And how many people actually can say they can do that?
And moving on to the gum. The gum came in 4 delicious flavors:

Peppermint
Tangerine
Triple Berry
Bubblegum
It was really hard picking a favorite flavor because they all tasted delicious but I really liked the
Tangerine
and the
Triple Berry
. They're hard shell gums, kind of like chicklets but more delicious and flavorful. What's also good about
Glee Gum
is that it's all natural and eco-friendly. There's no artificial ingredients and gluten free! I would definitely buy this gum again especially just because it's healthy for you and tastes as good as the not-so healthy ones.
Buy It!
Head on over to
Glee Gum's website
where you can order both the Make Your Own Candy Kits or Glee Gum, or both! Or click on the
Find Stores
tab on the site to find a local store near you! It looks like the kits are at quite a few TJ Maxx and Marshal stores. And the gum is at Whole Foods and Ricky's.
Win It!
ONE winner will receive a
Glee Gum
Candy Kit of their choice!
1. Go to
Glee Gum's website
and tell me which candy kit you prefer.
Please answer this question or else your comment will not count! You must do this first or future entries will not be counted.
(1 entry)
BONUS ENTRIES
2. Subscribe by Email and Confirm that Subscription (1 entry)
3.
Follow Glee Gum on Twitter.
(1 entry)
4.
Become a fan of Glee Gum on Facebook.
(1 entry)
5. Follow StarIMPULSE on Blogger. (1 entry)
6. Follow me on Twitter. (1 entry)
7. Tweet about this giveaway and send me a direct link to that tweet, you can do this once a day. (1 entry per day)
8. Subscribe to my YouTube channel. (1 entry)
9. Add my StarIMPULSE button to your sidebar and send me think link to your blog so I can see it. (1 entry)
10. Add StarIMPULSE to your blogroll (using my URL), with a link back to me! (1 entry)
ONE winner will be chosen on April 4, 2010 at 6:30pm (EST) and then will be emailed.
Alternate winners will be chosen if winner does not respond after 48 hours. This contest is only open to people in the contiguous 48 states. Thank you and good luck!
Disclaimer-
I was provided a product in exchange for my review.
You can read more about my blog policies in my disclaimer.
IF YOU DO NOT CORRECTLY ANSWER MY CONTEST QUESTION, YOUR COMMENT WILL BE IMMEDIATELY REJECTED.