Hey guys! So my next review and giveaway is for
Easy Lunch Boxes
.
Easy Lunch Boxes
are exactly what they sound like: easy lunch boxes. I received a blue lunch box and 4 containers in the mail.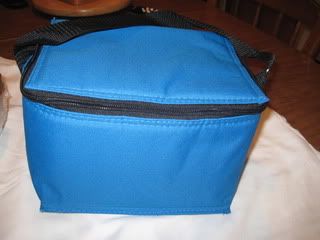 These lunchboxes are awesome. I commute to college and while they do have a cafeteria there but again I am a college student and their prices are actually pretty steep. (At least $5 for a pretty small salad.) Plus they really don't have a big selection, especially for me because I'm a vegetarian. So I usually bring my lunch with my anyway, I typically brown paper bag it. But now that the weather is getting warmer it kind of stinks to brown paper bag it because the sandwiches get kind of soggy and with the heat, especially if I have like tuna fish...yuck. So this bag really helped me out. What's great about it is that it keeps my food fairly cool, it especially helps because I can fit a small icepack in it so when it gets really hot out.
Also the size is perfect. It's not obnoxiously large or too tiny to fit anything. It's justttt right. Plus, since it's cloth and not a hard lunchbox you can squish it into your bag when you're done eating and the containers aren't large either so they are easily portable when you fit the lunchbox into your bag.
Speaking of the containers, that's another really great thing. Instead eating sandiwhces and using tin foil and plastic bags and kind of wasting them you can use these containers over and over again. They're reusable and microwave safe. Also for me, I'm a sandwich girl mainly because they were easy to make but now that I have these I can switch it up a bit and eat leftovers or make little meals or salads for lunch.
Now moms, come on you gotta jump on this for your kids. We all know how much grammar school cafeterias suck, at least mine did, I paper-bagged it back then too. This is great for your kids. It's not too flashy and easy for them to carry. Even for commuters like me, it's simple and fits just enough food even more if you need it for lunch. It's great.
It's also great for little day trips if you want to bring some snacks with you. Just the other day I went on a little hike and brought some water and watermelon in this and it worked out perfectly.
You guys definitely have to try this out.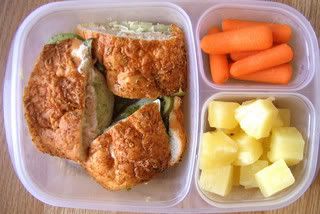 Buy It!
Head on over to
EasyLunchBoxes.com
and order an easy lunch box and a set of containers for yourself, they've got a bunch of colors to choose from!
Win It!
ONE winner will receive an Easy Lunch Box of their choice!
1. Go to
EasyLunchBoxes.com
and tell me which color you prefer you want.
Please answer this question or else your comment will not count! You must do this first or future entries will not be counted.
(1 entry)
BONUS ENTRIES
2. Subscribe by Email and Confirm that Subscription (1 entry)
3. Follow StarIMPULSE on Blogger. (1 entry)
4. Follow me on Twitter. (1 entry)
5. Tweet about this giveaway and send me a direct link to that tweet, you can do this once a day. (1 entry per day)
6. Subscribe to my YouTube channel. (1 entry)
7. Add my StarIMPULSE button to your sidebar and send me think link to your blog so I can see it. (1 entry)
8. Add StarIMPULSE to your blogroll (using my URL), with a link back to me! (1 entry)
ONE winner will be chosen on April 14, 2010 at 8:00pm (EST) and then will be emailed.
Alternate winners will be chosen if winner does not respond after 48 hours. This contest is only open to all US and Canadian residents. Easy Lunch Boxes has the right to refuse a winner if they've won in the past 60 days. Thank you and good luck!
Disclaimer-
I was provided a product in exchange for my review.
You can read more about my blog policies in my disclaimer.
IF YOU DO NOT CORRECTLY ANSWER MY CONTEST QUESTION, YOUR COMMENT WILL BE IMMEDIATELY REJECTED.