Hi guys! So my next review is for
Panda Licorice
. As the history of
Panda Licorice
says, it's
the snack to reach for when you're craving something sweet but all natural. Not only does it have full flavor and a pleasant soft texture, it's made from natural premium ingredients – including real licorice root – through a process rich in tradition. Panda contains no preservatives, no artificial colors and no artificial flavors. Panda Licorice is a simple, natural, guilt-free way to satisfy your sweet tooth.
I was sent a bunch of snacks from them, check it out: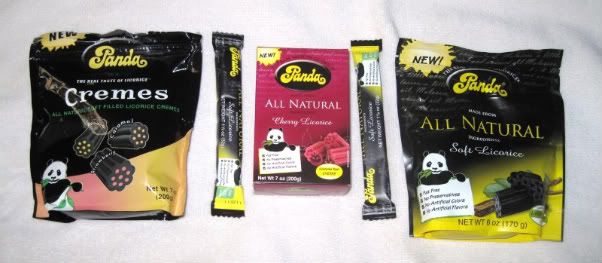 -Box of Cherry Licorice
-Bag of Soft Black Licorice
-Bag of Cremes
-2 Sticks of Soft Black Licorice
I was very skeptical when I agreed to do this review because, to be honest, I'm not a big licorice fan at all. I mean I love Twizzlers but regular black licorice I really didn't like at all. But this licorice was different, it tasted kind of sweeter than the bitter tasting black licorice I've had before. I did take me a while to get used to the flavor and the black licorice wasn't my particular favorite out of the bunch...but still I'm really glad I tried it. It's a healthy semi-sweet snack, the sticks are only 100 calories.
The Cherry licorice was really good though, I know this is weird but you could kind of taste that it was natural and not fake artificial flavoring. It just had less of that overly sugary taste and more of that fruity, fresh taste. It's hard to explain but I know if you tried them you would definitely agree with me. Well, if you like cherries, if you don't think you might not like this. But these are pretty good for you too, only 130 calories per serving which is five chews.
What really got me though were the Cremes. Oh my god, they were so delicious! Cremes are black licorice filled with either strawberry, banana, or caramel creme. These were my favorite! They were so good, they didn't even taste like black licorice, they tasted like Twizzlers but better. I liked how instead of long sticks like Twizzlers were these were bite-sized. They were just delicious, I practically ate the whole bag in one sitting, not going to lie. They're healthy snacks for you too! I was really worried because I thought the creme might get me, you know and be a ton of calories, but nope! Nine pieces of these equal 150 calories!
Overall I was so impressed with
Panda Licorice
. I definitely plan on buying the cremes in the future. They were just amazing. All of them are such a great, healthy alternative to chocolate or even Twizzlers. Definitely, if you're a licorice fan, try these babies out. Even if you're not a huge licorice fan, definitely try the cremes because they hardly taste like licorice at all. Mmm.
Also it's suitable for vegans and vegetarians! No gluten in these babies!
Buy It!
The best place to buy
Panda Licorice
is Amazon, so check it out
here
! Or, not big on online shopping? Check out your local Whole Foods Market because they sell Panda, too!
Disclaimer-
I was provided a product in exchange for my review.
You can read more about my blog policies in my disclaimer.