Hi guys! So my next review is for
High Sierra Sport
.
High Sierra Sport
is this really great company that specializes in bags, whether they be luggage, duffels, or backpacks. They mostly target sports-oriented bags, hence their name. I was sent their Swerve backpack.
I love this backpack! I didn't pick the color either but I love it, I'm a big fan of the gray/green combos. And I just love everything in general about the bag. I'm not a big backpack person but I could've really used this bag this past fall. I went and studied abroad in the fall in London and we went on weekend trips a lot to Dublin, Edinburgh, etc and we went on a hiking trip in Surrey. So I bought a cheap backpack from Target that was like $30, I think it's brand is some weird name I've never heard before like Ful. And guess what happened? It already has a little rip in one of the front small pockets. I mean I used it but I didn't go crazy enough with it to make it rip. But I've learned my lesson and if you compare the crap Ful backpack to this
High Sierra Sport
one you can tell that this one is more durable and just made better in general. This one won't be ripping anytime soon, that's for sure.
I also loved all the pockets. That's what wins me over with backpacks is all the pockets. It's got a big organizer pocket with mini pockets and storage space for all your office supplies like pens and little mini notebooks. It also has a cool mesh pocket on the strap where you can put your iPod, a drink, your phone, or something like your metrocard or something. But my favorite is a laptop compartment. It holds most 15" laptops. I know all backpacks have these nowadays but the way this one is made so much better than I've seen because it's padded really, really well and it's the last compartment or so it sits right on your back so it's in a pretty secure area.
Here's some more info on the bag and what pockets it includes:
-Multi-compartment design with side mesh water bottle pockets.
-Deluxe organizer compartment with multiple pockets and removable key fob.
-MP3 player pocket with headphone port.
-Easy-access hanging accessory pocket.
-S-shaped Vapel™ mesh Airflow™ padded shoulder straps with Suspension System, and thumb-ring pulls.
-Fully-padded bottom, Vapel™ mesh padded grab handle and back panel.
-Adjustable side compression straps.
-Dual side mesh compartments.
I said it before and I'll say it again. I love this bag. I can't wait to use this in the summertime when I go to Florida and when I go to my lakehouse for the weekend. I'm so excited to show it off, seriously, it's really great.
Buy It!
Head on over to
High Sierra Sport's website
and browse
their selection of bags, they have a huge selection. Or check the
Find a Retailer
location to see if they sell any bags at a store near you. The bags are a tad bit pricey, the Swerve bag retails at $90.00 but you can tell that the bag is really great quality. It'll last you maybe even a lifetime. Or you can always check out their
Facebook Page
and become a fan because they do a random drawing for a pack every week so you guys will most likely win one! Also you should definitely follow them on
Twitter
too!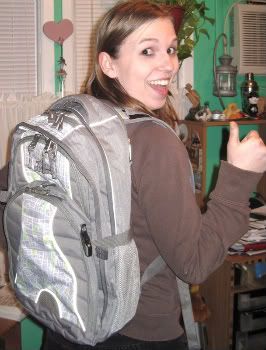 Disclaimer-
I was provided a product in exchange for my review.
You can read more about my blog policies in my disclaimer.