Hi guys so my next review is for
Joey Junior's Purse Organizer
. You may faintly remember the
Joey Junior purse hanger review and giveaway
that I put up, well up this is the same brand. That giveaway is still going on so be sure to enter and win that, too! Well my next review is for their purse organizers. I received both the original purse organizer and got the mini purse organizer too! I received the original in zebra and the mini in brown suede.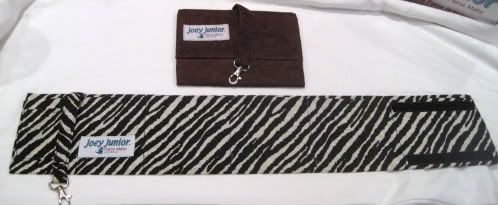 I'm going to be honest, I was very skeptical with these organizers, how useful could they be? Do they even hold the items or will they fall out? Especially with the original I was afraid the velro would un-velcro and just dis-organize my entire bag. Man I was wrong.
I tried the original organizer out in a tote bag of mine. I have a plain tote bag that I love (I got it at Shakespeare's Globe Theatre in London when I was studying abroad there, it says "All the World's a Stage." I just
love it) but I can't really use it much because it has no pockets and I hate using bags without pockets because, you girls know, all your important stuff like your cell phone and your keys and your metrocard falls to the bottom so you end up having to take everything out to get to it. Anyway, so I tried the original in here and it worked like a charm. It was so useful I actually use that totebag now and keep the organizer in. Here's how mine looked: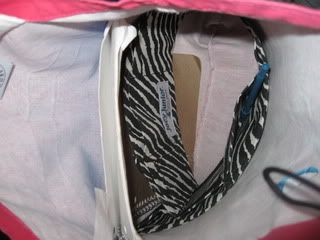 It has enough pockets where you even have extra pockets, if that makes sense. I love it. The velcro stays together perfectly. The hole
is a little small to put notebooks in the middle of the organizer, but it's not meant for a totebag and I just put my school notebooks behind it, no hard done. This one I believe is more designed for larger bags that's why it's meant to go around a big bag. But yeah it's really useful, like seriously you'd be surprised by how much it does keep your stuff organized.
The mini purse organizer is really cool too, but I think it's more useful for smaller bags like clutches or those small ones that have long shoulde straps that don't have many pockets at all and are just basically like an empty bag. With those bags this little organizer basically is the inside of your purse but more organized. If you have lots of room in them you can have the purse organizer stand up kind of on a platform or if it is a very skinny clutch bag this purse organizer folds up too.
What's also great about these organizers, especially the smaller one is if you want to change bags you don't have to dump your entire bag out and put it into another you simply have to pick up the purse organizer and put it into another bag, and BAM! It's that easy.
They're also great gifts, like if you have a friend that is really hard shopping for this is like a great go-to gift because it's one of those clever items that maybe she'll be like "What the heck??" at first but once she tries it she'll be addicted. I sure am.
Buy It!
Head on over to
JoeyJunior.com
and order a purse organizer for yourself, they've got a bunch of colors to choose from!
Win It! ONE winner will receive a Joey Junior foldable purse organizer of their choice!
1. Go to
JoeyJunior.com
and tell me which color you prefer you want.
Please answer this question or else your comment will not count! You must do this first or future entries will not be counted.
(1 entry)
BONUS ENTRIES
2. Subscribe by Email and Confirm that Subscription (1 entry)
3. Follow StarIMPULSE on Blogger. (1 entry)
4. Follow me on Twitter. (1 entry)
5. Tweet about this giveaway and send me a direct link to that tweet, you can do this once a day. (1 entry per day)
6. Subscribe to my YouTube channel. (1 entry)
7. Add my StarIMPULSE button to your sidebar and send me think link to your blog so I can see it. (1 entry)
8. Add StarIMPULSE to your blogroll (using my URL), with a link back to me! (1 entry)
ONE winner will be chosen on April 11, 2010 at 8:30pm (EST) and then will be emailed.
Alternate winners will be chosen if winner does not respond after 48 hours. This contest is only open to people in the contiguous 48 states. Thank you and good luck!
Disclaimer-
I was provided a product in exchange for my review.
You can read more about my blog policies in my disclaimer.
IF YOU DO NOT CORRECTLY ANSWER MY CONTEST QUESTION, YOUR COMMENT WILL BE IMMEDIATELY REJECTED.