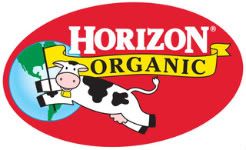 Hey guys! So my next review and giveaway is for Horizon Organic lowfat Chocolate Milk with DHA Omega-3. I received 4 coupons 2 for a free half gallon of chocolate milk and 2 for $1 off a half gallon of chocolate milk.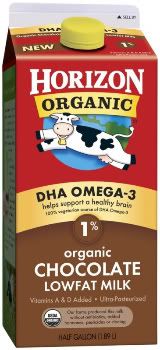 I remember having chocolate milk from Horizon a while ago and loving it but I'm not sure if it was this one that's lowfat with DHA Omega-3. But either way, both tasted soooo good. I received coupons to get 2 half gallons of this chocolate milk for free as well as 2 coupons for $1.00 off, so I used the free coupons first. Went I went into the Stop and Shop today there was only 3 gallons left and one had an earlier expiration date so I thought wow this must be delicious. And it issss. It's all I've been drinking all night. Chocolate milk never gets old for me.
I feel like the taste had the perfect milk and chocolate combo, you know how some ready made chocolate milks are either too watery and chocolatey or too milky and not-so chocolatey? Well this chocolate milk tasted as if you stirred in the chocolate powder or syrup yourself. It is sooo good. This chocolate milk will not last in my house, I know that for a fact.
But let's get into the healthy-aspect of it now, because this chocolate milk is actually healthy for you! Horizon Organic lowfat Chocolate Milk with DHA Omega-3 provides a great tasting and easy way to add calcium and DHA to your family's diet. DHA Omega-3 is an important nutrient that helps support heart, brain and eye health. DHA belongs to a category of healthy fatty acids known as Omega-3's. Found in high concentrations in the tissues of the brain and eye, DHA Omega-3 is thought to help support healthy function in these areas. DHA has also been shown to help support heart health.
And moms, I know you love hearing that chocolate milk is healthy because what kid doesn't love chocolate milk? Well this chocolate milk is even better because of this extra boost of DHA, many children actually don't get their recommendd daily amount of DHA, but if they start drinking this delicious chocolate milk they will! DHA also provides a nutritional boost for children's growing minds and bodies. Children's brains grow incredibly fast. In fact, the brain nearly quadruples in the first five years of life. WOW! Drinking this milk will also help kids get their recommended source of calcium instead of having them drink all those sugar sodas and juices, have them drink some of this!
I love chocolate milk, especially this one, it just tastes good and it's an even huger perk that it's actually heathly for you. But chocolate milk is a drink that you can never grow out of, yeah it has a reputation for being a kid's choice of drink but hey I don't think I'll ever stop loving chocolate milk. It's just a great go-to healthy drink!
What's also great is that this is also an organic milk too! No weird artificial flavors added in here!
Definitely try this chocolate milk out, you guys! It's not super expensive like a lot of organic milks are nowadays either, it was $3.99 near me.
Buy It!
Head on over to your local supermarket, I know for a fact they are sold at Shop Rite and Stop & Shop. Only $3.99 for deliciousness!
Win It!
Win It! TWO winners will receive a total of 4 coupons: 2 for 1 free half gallon of chocolate milk and 2 for $1 off a half gallon of chocolate milk.
1. Comment telling me what was your favorite drink when you were a kid.
Please answer this question or else your comment will not count! You must do this first or future entries will not be counted.
(1 entry)
BONUS ENTRIES
2. Subscribe by Email and Confirm that Subscription (1 entry)
3. Follow StarIMPULSE on Blogger. (2 entries!)
4. Follow me on Twitter. (1 entry)
5. Tweet about this giveaway and send me a direct link to that tweet, you can do this once a day. (1 entry per day)
6. Subscribe to my YouTube channel. (1 entry per day)
7. Add my StarIMPULSE button to your sidebar and send me think link to your blog so I can see it. (1 entry)
8. Add StarIMPULSE to your blogroll (using my URL), with a link back to me! (1 entry)
ONE winner will be chosen on May 9th, 2010 at 6:30pm (EST) and then will be emailed.
Alternate winners will be chosen if winner does not respond after 48 hours. This contest is only open to all US Residents. Thank you and good luck!
Disclaimer-
I was provided a product in exchange for my review.
You can read more about my blog policies in my disclaimer.