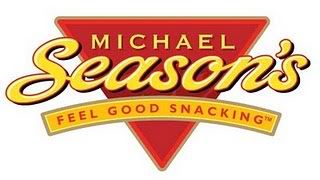 Hey guys so my next review and giveaway is for
Michael's Season's
. I got to review a bunch of their really delicious baked puff and curls line of yummy snacks.

The flavors I received were:
Cheddar Cheese Puffs
Cheddar Cheese Curls
White Cheddar Cheese Pops
Jalapeno Cheese Puffs
Hot Chili Pepper Cheese Curls
These were soooo good! I'm a cheese doodle/cheetos/Pirate's Booty fan in general so these I knew I was going to love. Which is why I was super happy when I found out they were sending me these and not chips, because it's not that I don't like chips, they're okay, but I prefer the puffs to the chips anyday. I'm a cheesy person, that's why. I love cheese! Haha. But the special flavors like Jalapeno and Hot Chili Pepper were sooo good. The Jalapeno was reallllly hot, not my personal favorite but I liked how it lived up to it's name, you know. If you're into really spicy snacks you would love it though. My mom is really into spicey snacks and this was her favorite. Hot Chili Pepper I actually liked more because it was hot but not too hot, hot enough for you to enjoy the hotness but to keep snacking on it. The Jalapeno for me I had to stop after a bit and grab something to drink because it was so hot. I also looooved the White Cheddar I think that's my new favorite flavor in the cheese snack world right now, I don't know why but it always tastes delicious. The cheddars were good too, but you can't go wrong with cheddar right? Always a safety for me, but a very good and delicious safety at that.
What's also super awesome about these snacks is that they're actually healthy for you! Yes, you read correctly a cheese puff/curl/pop snack that is actually healthy for you?? Are you serious?? Why yes I am! For instance all of these flavors have 50% less fat than the regular cheddar curl or puff or pop. The Cheddar cheese puffs have a whopping 65% less fat! Wow! I was so surprised by this because they taste like regular cheese doodles to me, they're a little less messy, like you don't have to lick off the excess puff that sticks to your fingers as much but still, is that a better thing? Less messy but same flavor?? Awesome! Another plus is that they're wheat and gluten free. Gluten? I didn't even know that was in normal cheesy snacks, kind of weird...but holler! Just makes me love these even more.
Okay they're delicious and healthy, but what else? Jeez you're asking for a lot! But okay, how about they're au naturale! Yup, they're made with real cheese not that artificial junk!
These snacks were sooo good that my house literally attacked them. For instance, I opened up the white cheddar cheese pops one night and they were gone, THAT SAME NIGHT. These aren't mini bags either, Michael's Seasons was so generous and gave me the huge actual sized bags, yeah we are hungry people and we love snacks and these definitely fit our snack bill. I actually looked it up on they're website to see where they sell these delicious snacks and definitely plan on buying them at my Whole Foods in the future.
Buy It!
Head on over to
Michael's Seasons's website
and click on the
Find a Retailer
link to see if there's a store near you. Or shop online and browse all their products, they're all delicious!
Win It!
ONE winner will receive a bag of Jalapeno cheese puffs, chip clip, and reusable tote bag!
1. Go to
Michael's Seasons website
and tell me what snack you'd like to try in the future.
Please answer this question or else your comment will not count! You must do this first or future entries will not be counted.
(1 entry)
BONUS ENTRIES
2. Follow starIMPULSE on blogger. (2 entries!)
3. Subscribe by Email and Confirm that Subscription (1 entry)
4. Follow me on Twitter. (1 entry)
5. Tweet about this giveaway and send me a direct link to that tweet, you can do this once a day. (1 entry per day)
6. Subscribe to my YouTube channel. (1 entry)
7. Add my StarIMPULSE button to your sidebar and send me think link to your blog so I can see it. (1 entry)
8. Add StarIMPULSE to your blogroll (using my URL), with a link back to me! (1 entry)
ONE winner will be chosen on April 27, 2010 at 8:30pm (EST) and then will be emailed.
Alternate winners will be chosen if winner does not respond after 48 hours. This contest is only open to all US Residents. Thank you and good luck!
Disclaimer-
I was provided a product in exchange for my review.
You can read more about my blog policies in my disclaimer.
IF YOU DO NOT CORRECTLY ANSWER MY CONTEST QUESTION, YOUR COMMENT WILL BE IMMEDIATELY REJECTED.