Hi guys! So my next review is for
OPI Nail Lacquers
. Now, come on, everyone knows of OPI they use them at nail salons, sell them at Target, it's a really awesome brand. What's even cooler is that I was lucky enough to review their Shrek Forever After Collection of colors! All of the colors are sooo gorgeous. Literally, the day I got them in the mail I put the first color on. Another awesome thing about this collection was the names that's what tied the whole collection together. Here's the colors I received and their super cool names: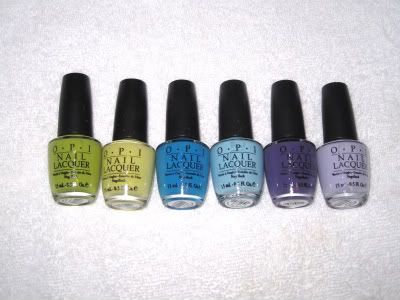 Color Names:
Who the Shrek are You?
(Green)
Fiercely Fiona
(Yellowish Green)
Funkey Dunkey
(Purple)
Ogre the Top Blue
(Blue)
What's with the Cattitude?
(Light Blue)
Rumples Wiggin'
(Light Purple)
I was so excited when I received these colors because they were all so pretty! I couldn't wait to put one on, and so I didn't haha. The first color I tried on was
Rumples Wiggin'
just because I've noticed that this light purple is a popular color this season so I wanted to join in on the fun. It's a really pretty color too, all of them are to be honest, this is one collection where I can't pick one favorite. Here, instead of picking one favorite I'll tell you my least favorite...
Fiercely Fiona
. Don't get me wrong, I LOVE the name but it's just a weird mix of yellow and green I felt like it should be one or the other. It wasn't that bad though, typically in collections you get a few wacky ones like "Where did this color come from?" ones but this one was just an "eh not my type of color" one and it was just ONE the others I'm definitely wearing. They're also such different colors too, aside from maybe
Funkey Dunkey
which is typical purple (but hey I don't have any purple nailpolish so I was sooo happy to get this one) and the
Rumples Wiggin
I haven't seen any colors like the rest of them before. Then again you really don't see many purples around either, only if you go to nail salons I think because I never see them being sold at regular stores...maybe that's just me though.
What was also great about these was that they weren't polish they were lacquers and lacquers dry harder and more chip resistant. Although I am becoming a pro at doing my nails (before like a month ago I used to suck hardcore at it and whenever I went to bed and woke up my fingers were all mushed) it is still really great to have a solid, more durable nail color on your nails.
Also the colors even though a few were light colors they weren't thin, all you needed were two coats on your nails and you are good to go. The colors did look like the colors in their bottle too, they weren't those "Wait a second...this isn't the same color" polishes at all. They matched up.
All in all these were really great nail lacquers. I just loved the variety of colors in the collection yet they weren't just random colors thrown in a collection they all kind of connected with each other which was great. And the names seriously were fantastic. OPI, I feel, is one of the most well known names out there and they have every right to be because their lacquers are fantastic, they have a HUGE collection too. Every color under the rainbow and more! Seriousy check out their website
OPI.com
. Also on the website you can "Try the colors on" which is really cool, you can change the hand's skin tone to match yours to see how the color looks on your digital hand.
Buy It!
OPI is really located at most stores, I've seen it at Target and various nail salons. Head on over to
OPI's website
and click on the "Where to Buy" tab, put in your zip code, and you're bound to find it sold somewhere.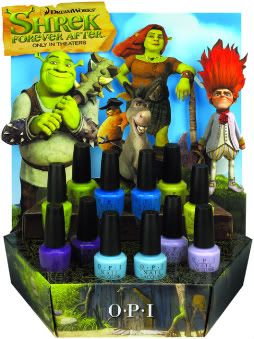 Disclaimer-
I was provided a product in exchange for my review.
You can read more about my blog policies in my disclaimer.