Hi guys! So my next review is for
Portopong
! Portopong is one of the
coolest, most original products I've ever come across, but maybe that's because I am a college student so I know I will use the hell out of it. A portopong is an inflatable beer pong table/raft.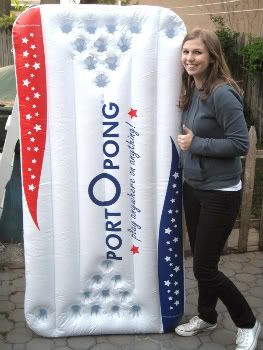 I love this so much! I'm actually pretty surprised nobody thought of creating this earlier. It's huge too (as you can see from the picture, I'm 5'6" so it's up there). It's also great because summer is coming up and I'll be able to use this the proper way -- in the pool.
Though you don't have to wait til the summer to use this baby -- I didn't. I know you'll be shocked to hear this but this is actually a great tool to play beer pong inside. Beer Pong inside?? Seriously!? Yup! Portopong's little holes for your solo cups hold the cups inside very securely. So you won't have to cover up the ground with garbage bags or whatever you use. Yup the fun and entertainment that a great game of beer pong consists of but without the mess!
I actually used it outside in my backyard only because it was super nice out and it was like playing regular beer pong. We had the same fun we usually did. Except I had more fun because I wonnn what! What!? Not that I don't usually win...it's like a 50/50 chance for me, depends how much I've drank to be honest, I'm better with more in me, haha, seriously. I am that guy from Beerfest, except I can't play quarters for the life of me but you know, how he stunk when he was sober...you get it.
Also it's portable, hence the name so you can bring this baby anywhere. You may have to bring a pump or something too to blow it up because I couldn't blow it up by mouth, maybe if you have an extremely good set of lungs you can but yeah I'd recommend a pump.
But anyway this product is sooo awesome. I can't wait til the summer when I can use it in the pool. And I know what you're thinking, you're still having your doubts on whether this Portopong will actually work in the pool. I promise, it will. But you still disagree, you're saying "But it's a raft. Won't it float around?" Well that would be possible, but Portopong convinently has four little plastic hole things on each corner and small ropes so you can put the ropes through the holes and tie the rope to the edge of the pool to prevent it from moving. So if you are a super serious ponger you may want to do that. Or you may be lazy like me and have a small pool anyway so it's not like it will move around that much, like me, and probably just play it without that. The point is Portopong gives you the choice to use the rope or not.
It's definitely a one-of-a-kind product and super great if you're in college or even if you're not and just like to play drinking games. Honestly, there is no age limit on beer pong that I know of. Moms, I know you still may not be down with this idea but hey! It makes an excellent raft, just flip it over and lay out on it. You can enjoy it that way!
Buy It!
Head on over to
Portopong's Website
and grab one for just $39! I know you might think that's a little steep, but where else are you going to get an inflatable beer pong table?
Win It!
ONE winner will receive a Portopong of their choice!
1. Go to
Portopong's website
and tell me what color you would like.
Please answer this question or else your comment will not count! You must do this first or future entries will not be counted.
(1 entry)
BONUS ENTRIES
2.
Follow Portopong on Twitter.
(1 entry)
3.
Become a fan of Portopong on Facebook.
(1 entry)
4. Subscribe by Email and Confirm that Subscription (1 entry)
5. Follow StarIMPULSE on Blogger. (2 entries!)
6. Follow me on Twitter. (1 entry)
7. Tweet about this giveaway and send me a direct link to that tweet, you can do this once a day. (1 entry per day)
8. Subscribe to my YouTube channel. (1 entry)
9. Add my StarIMPULSE button to your sidebar and send me think link to your blog so I can see it. (1 entry)
10. Add StarIMPULSE to your blogroll (using my URL), with a link back to me! (1 entry)
ONE winner will be chosen on May 6th, 2010 at 9:00pm (EST) and then will be emailed.
Alternate winners will be chosen if winner does not respond after 48 hours. This contest is only open to all US Residents. Thank you and good luck!
Disclaimer-
I was provided a product in exchange for my review.
You can read more about my blog policies in my disclaimer.