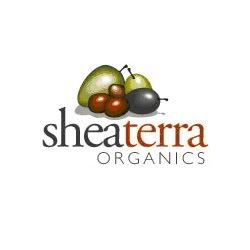 Hey guys! So my next review is for
Shea Terra Organics
. Shea
Terra Organics is this really great organic bath, face, and body product company that create their products from natural indigenous African ingredients. It came in this really cute bag too: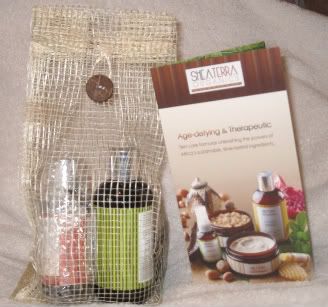 The Products I received were:
African Lemongrass Indigenous Black Soap Elixir
Dark Chocolate Cocoa Bean Shea Sugar Scrub
Bourbon Vanilla Indigenous Dead Sea Salt Scrub
Rose Water Hydrating Facial Toner
Menthe Orange Organic Shea Lip Butter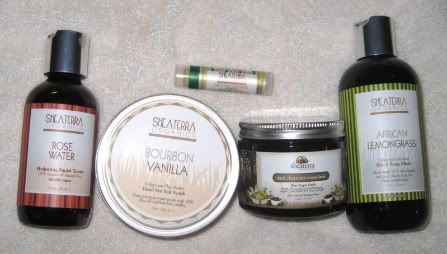 I really loved all of these products, but it's hard to review them all together because they're all so different, so let me go one by one.
First the African Lemongrass Indigenous Black Soap Elixir, I picked this product because I've heard that black soap is really good for you especially with blemishes and such. As the website says:
"Shea Terra's Indigenous Black soap Elixir evens skin tone, dries out and prevents acne, speeds up healing of open wounds, diminishes razor bumps, and dissolves the "glue" that holds on dead skin cells."
Maybe it wasn't the best smelling one, I picked the Lemongrass one because I didn't really know what that smelled like and wanted to try it out...not my favorite smell, let's just say, I probably should've picked the Mint Marrakesh one instead. But I did like how the soap treated my skin, first off I am always worried with new products especially soaps and such for your face because my face gets dried out fast (and yet the blemishes still come!). At least with this soap I didn't dry out as much. The blemishes didn't go away super fast but new ones did stop coming. So I really liked this and even though it doesn't smell like flowerly and sweet it doesn't smell bad it just smell strange to what I'm used to. I keep using it and I really like how it treats my skin.
And now for something completely different, the Dark Chocolate Cocoa Bean Scrub not only smelled GREAT but I really, really wanted to eat it, hahaha. It smells exactly like chocolate, and not only that but it looks like chocolate icing. It's not as smooth as icing though, haha, because it's a scrub but that's fine with me! It moisturizes and exfoliates your skin. It also removes dead skin cells and encourages skin renewal. I really liked this scrub, it was crunchy and scrubby, if that makes sense, so when I rubbed it around a while it made my hands kind of have that super soothing sensation because it was such a rough scrub. But I like that because you know it's working, you can feel right after that your skin does feel smoother and softer than before. The one problem I had with it was that the instructions said to fill your palm with it and rub, well I tried that but everytime I did that while rubbing chunks would fall out, so instead I did little by little. Also this isn't the best scrub for a white/beige shower because it stains a bit, so every so often I would have to stop scrubbing and start up the removable showerhead just to rinse away the dark marks (HP) on the shower floor. It wasn't much of a hassle, to be honest, but I'm just warning those super neat freaks. This was one of my favorites.
The Bourbon Vanilla Indigenous Dead Sea Salt Scrub was really great too. Not going to lie, I questioned myself why I asked for two scrubs because while I loved them both now it's going to be a tough decision which to use first, haha. I probably should've asked for a lotion or something...but oh well I have a ton of lotions and only 2 (these two) scrubs, so that was probably why. Anyway, back to the review. This scrub is a deep cleansing scrub that also scrubs away dead cells and stimulates new cell growth, it also softens the skin. I felt like this scrub was a bit smoother and not as rough as the dark chocolate sugar scrub. I kind of liked the rough one more mostly because I'm the kind of person that when I work out I like aerobics and not yoga because I like to feel the burn, just like here I like to feel it working. Here while the product smelled lovely and does work, you start to notice more of a difference after using it everyday, while I feel like the sugar scrub works like after the first night. This is more of a buffer and the dark chocolate is more a of scrubber. This one was also a lot more watery than the dark chocolate one. I felt like this one was easier to use for bigger body parts though, like it's faster because it doesn't fall out of your hand as much as the other one. This one you can do your whole arm while the other one you may need an extra scoop or two. Either way, I liked them both a lot. This one smelled realllly good too.
Next up is the Rose water Facial Toner. I picked this because I've been hearing the word "toner" a lot lately and kind of had no idea what it was used for. Well it cleans out your pores, balances your skin, moisturizes, and hydrates. You actually use it after cleaning your face too, it's not like a make-up removal thing. I really liked this because it wasn't oily or anything and it did feel just like water. After cleaning my skin I was suprised to find little things on the cotton ball that the soap missed that the toner picked up. It is also alcohol free too so it doesn't dry out your skin. It was a really good product. Even if you're a newbie with all these facial and body products check it out.
Lastly was the Menthe Orange Organic Lip Butter. This was an extra item that they just threw in, which I thought was very nice of them because hey if there's one thing I can't get enough of it's lip balms. I was worried at first combining the menthe and the orange but it actually was great. The menthe-ness kind of gives your lips that minty soothing feeling. It also wasn't too oily or too waxy, it was like ChapStick which was great, that same feeling but maybe even not as oily as them. Great lip care product.
All in all, I really did love all of these products! I was so happy I was able to review them all and like them all! Keep in mind though that things don't go perfect over night, using these products it will take some time to see a difference in your face or skin, but they will work! At least they did for me. :) Definitely check out
Shea Terra Organics
they have a huge selection of amazing products and you won't be disappointed.
Buy It!
Head on over to
Shea Terra Organic's Website
and browse their awesome selection of products. They also sell them at Nordstroms, but if you want to find a specific distributor near you call them at 877-427-6627 for retail locations in your area.