Hey guys! So my next review and giveaway is for
Wondawedge
! Wondawedge is this really awesome product, it's an inflatable triangle/wedge shaped pillow with a little piece of fabric that you lay on so when you lean on the wedge it doesn't slip or move away from you.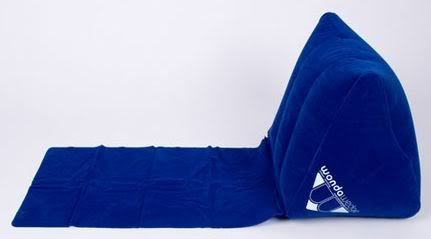 This product was really, really cool. It is so comfortable too! It's not awkward or gives you any static cling (like makes your hair go crazy) because it's made with a type of swedey material so it's soft and cozy. Also it's great because of that little extra fabric that's like towel sized because it doesn't push away from you, it's like a flat chair but with a comfy back. There are so many ways use can use this Wondawedge too.
I'm a college student so this is great for when you're at another person's dorm or someone is in your dorm and all the bedspace and the one chair is taken. Well here you go, use my Wondawedge! That's what I used it for, just chilled out in front of the television and leaned back onto it. It was super comfy and great. Another great way to use it is well summertime is coming up and this is great for the beach. Instead of lugging a beach chair with you to the beach you can bring this super light Wondawedge and relax with that.
It's also great for outdoor concerts and such. I also plan on using it in May when I go and wait on line to see Saturday Night Live. You have to wait for like 12 hours on the streets of 30 Rock to get standby tickets. Instead of bringing a big ass chair with me on the bus I can just bring this Wondawedge.
You can also share it with a friend, have you lean on one side and your friend lean on the other, pretty cool, huh?
It's great for indoor and outdoor use and it's really durable and comfortable. The one problem I had with it was you need a pump or something to blow it up because I tried blowing it up by mouth and it just pooped me out and barely blew up. So when you bring this Wondawedge places it's probably best to bring a pump with you, too.
But all in all, this was a really great product. Super easy to use and super comfortable. I like to lean it back on my bed to before I go to bed I read so this is a great tool for that. Definitely check it out guys, it has so many uses and is totally worth it. It's a great gift too!
Buy It!
Head on over to
Wondawedge's website
and order one online, it's only $24.00! Or click on the
Retail Locator
link to see if they're selling any products near you or on an online retailer you like!
Win It!
ONE winner will receive a Wondawedge of their own!
1. Go to
Wondawedge's website
and tell me what color you would like.
Please answer this question or else your comment will not count! You must do this first or future entries will not be counted.
(1 entry)
BONUS ENTRIES
2. Subscribe by Email and Confirm that Subscription (1 entry)
3. Follow StarIMPULSE on Blogger. (2 entries!)
4. Follow me on Twitter. (1 entry)
5. Tweet about this giveaway and send me a direct link to that tweet, you can do this once a day. (1 entry per day)
6. Subscribe to my YouTube channel. (1 entry per day)
7. Add my StarIMPULSE button to your sidebar and send me think link to your blog so I can see it. (1 entry)
8. Add StarIMPULSE to your blogroll (using my URL), with a link back to me! (1 entry)
ONE winner will be chosen on May 5th, 2010 at 10:00pm (EST) and then will be emailed.
Alternate winners will be chosen if winner does not respond after 48 hours. This contest is only open to all US Residents. Thank you and good luck!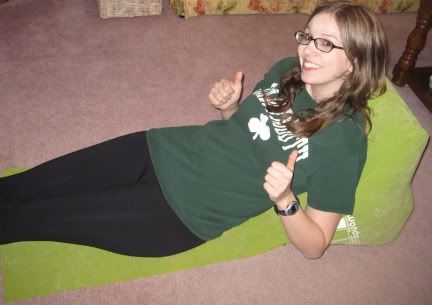 Disclaimer-
I was provided a product in exchange for my review.
You can read more about my blog policies in my disclaimer.