Hi everyone! So my next review is something so deliciously awesome. I got to review a cake from
Bake Me a Wish
! I was sent the Chocolate Mousse Torte Cake. Here's a picture so you all can drool.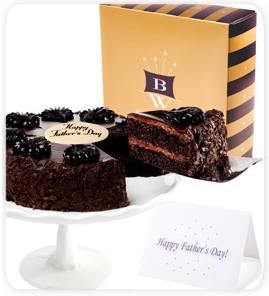 I actually took a picture of mine, but my computer crashed along with all of my pictures. But mine said "Thank You" which I thought was sweet of them. No, thank you Bake me a Wish. Seriously, this cake was amazing.
Here's what it says on the website about this amazing creation of deliciousness:
"Two chocolate layers filled with luscious chocolate whipped cream mousse, then covered with milk chocolate frosting and a dark chocolate glaze. Garnished with fudge rosettes and dark chocolate shaves."
Those few sentences are basically fancy talk for just saying "Come on, look at this cake, it is god awful delicious."
Yeah, I know, it does look delicious. But wanna know something? It tasted even better. I know it's cheesy to say, but it tasted like heaven. But seriously, it does taste like that. I actually received this package on Saturday and it is now Tuesday and there's about oh...a piece left. A piece that will be gone by the end of the night, I promise you that. In fact, most of it was eaten that Saturday night when I got home. My parents waited for me to open it and then them, my friend, and I attacked that sucker. We attacked it the only way you can with a delicious cake, with our mouths.
Now I am a chocolate lover. But this chocolate cake wasn't too heavy which can be both a good and a bad thing. Good for obvious reasons, bad because late at night you're too lazy to grab a plate so you just open the box and grab a fork and...you just can't stop eating it. It is seriously that good.
But why do you need this cake? Well first of all, did you see that picture of that cake? Yes, I know it looks good. But read it, what does it say? Happy Father's Day. Right! Father's Day. Dad will love this. Heck my dad did. It was mainly me and my dad that basically slowly ended this cake's life. Actually not slowly, pretty quickly, considering it's been a mere 3 days. My dad is a chocoholic, in fact that's where I think I get my chocolate lover gene from. My mom and brother are vanillas but my mom did like this cake too. Because it wasn't a huge smack in the face of chocolate, it was chocolate but not too much jusssst right.
But back to Dad -- Dads are hard to shop for. At least my dad is. Why not get to his heart the right way? Through his stomach. My dad doesn't mind what I get him whether it be a CD or DVD or whatever but a lot of times I hardly see him use that DVD. But you know what I see him do a lot of? Eat. My dad is a big eater. And this is the perfect present for him. Also, if you're giving this cake as a gift it comes with a card that you can personalize for Father's Day or whatever. Which I thought was really sweet and a great idea.
Another thing to think about is graduation! My graduation is this friday and my mom said "we should use this for your graduation" but I used the
whole "Oh but it says on the box use within the first 5 days of receiving, rats." It does say that. But honestly, she thought I could hold off a week without eating this? A week! Plus, I asked for ice cream cake. Which is another thing, I typically don't like regular cakes. They're too dry for me. But this cake was so moist! Not mushy moist, but like fluffy but moist.
Okay to describe this cake in one sentence I would say that it is the perfect cake. Period.
But you don't like chocolate? Or you're allergic? Or not a big mousse person? Not to worry! Bake Me A Wish has more than just chocolate! They've got Red Velvet, Coconut Cream (almost chose that one), Mississippi Mud(almost chose that one too), coffee cakes, lava cakes, and so much more!
Literally check out the website, you will probably get super hungry...which I apologize in advanced. But they are just so delicious!
I could go on and on about this cake, but I'm actually getting hungry writing this.
Buy It!
Head on over to
BakeMeAWish.com
and browse their amazing selection. Cakes start at just $19.99!