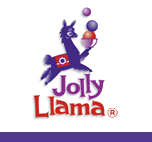 Hey guys! So my next review and giveaway is for
Jolly Llama
! Jolly Llama have these amazing sorbet squeeze-up frozen popsicle type things (like those Flinstones ones you had when you were a kid, you know what I'm talking about!). I received a box of the blueberry ones and oh my god they were soooo delicious!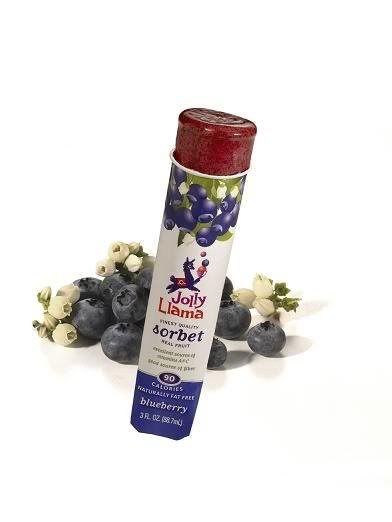 These squeeze-ups were soooo good! I'm not going to lie when I first took it out of the freezer I was like "psh, yeah right like this squeeze-up thing is going to work" because they're frozen! But don't worry! After about a minute out of the freezer, just squeeze it and it pushes out. Haha it definitely sounds like I'm talking about something else...but get your mind out of the gutter this is healthy delicious snacks we're talking about here! Also summer is coming up and they're PERFECT for that time of year, who doesn't love a sweet, refreshing, delicious popsicle on a hot day?
The even awesomer part is how nutritious they are! They're all natural, fat free, dairy free, no artificial ingredients, gluten free, no GMOs, and they're only 70 and 80 calories! They also have Vitamin C and Vitamin A, hooray!
They come in really delicious flavors too like strawberry, blueberry, acai berry, mango, and raspberry. I chose the blueberry because I love anything blueberry, I would probably turn into a blueberry Violet Beauregarde style if that was possible. But these were really, really delicious and just refreshing too.
But another reason you will love these more is that they try and help end world hunger as the website says:
Jolly Llama is committed to making treats that are healthy and delicious and developing a more sustainable, philanthropic and eco-friendly company culture. It's with these values in mind that we are adamant about producing packaging that is made from sustainably sourced recyclable materials. In addition, a portion of each Jolly Llama sale is donated to organizations working to end world hunger."
You guys definitely need to try these out. Especially if you have a sweet tooth like me, these will satisfy your craving but not make you go overboard in calories. Plus on a hot day these are perfect for anyone to enjoy. Also if any of you try the Acai Berry let me know because that sounds like a really delicious flavor I was going to choose that but...I just can't give up blueberry. I have an addiction, haha.
Buy It!
Head on over to
Where to buy
on their website and see if they sell them at a store near you. Unfortunately it looks like they're sold only on the west coast and midwest. :(
Win It!
Win It! ONE winner will win a box or two of their flavor of choice from Jolly Llama!
1. Comment telling me what flavor you would like to try.
Please answer this question or else your comment will not count! You must do this first or future entries will not be counted.
(1 entry)
BONUS ENTRIES
2.
Become a fan of Jolly Llama on facebook.
(1 entry)
4. Subscribe by Email and Confirm that Subscription (1 entry)
5. Follow StarIMPULSE on Blogger. (2 entries!)
6. Follow me on Twitter. (1 entry)
7. Tweet about this giveaway and send me a direct link to that tweet, you can do this once a day. (1 entry per day)
8. Subscribe to my YouTube channel. (1 entry per day)
9. Add my StarIMPULSE button to your sidebar and send me think link to your blog so I can see it. (1 entry)
10. Add StarIMPULSE to your blogroll (using my URL), with a link back to me! (1 entry)
ONE winner will be chosen on May 24th, 2010 at 7:00pm (EST) and then will be emailed.
Alternate winners will be chosen if winner does not respond after 48 hours. This contest is only open to all US Residents. Thank you and good luck!
Disclaimer-
I was provided a product in exchange for my review.
You can read more about my blog policies in my disclaimer.