Hey guys so my next review is for
Melitta
. Melitta is this excellent coffee company that sells excellent flavors of coffee along with coffee makers and filters. This is what I received from them: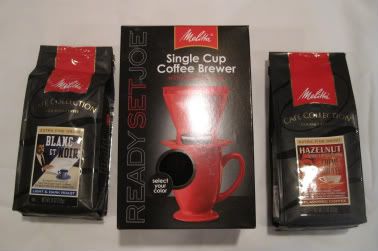 I received a really cool cup of coffee maker called Ready, Set, Joe and two flavors from their Cafe Collection: the Blanc et Noir and Hazelnut Creme Brulee. Alone with a 5-pack of filters for the Ready, Set, Joe.
The Ready, Set, Joe was so easy and cool to use! It's a ceramic mug but on top is a little filter. So you boil some water; put the cone on top of the ceramic mug; put a throwaway paper filter in it; put two scoops of your favorite coffee inside. Once the water is finished boiling pour the hot water on the filter and it drips into the mug all brewed! It was super fast to do, great for making one cup instead of one pot. And just a very nifty little invention, I'd say.
I always was more of a tea person because coffee is just a pain to make, but not with this Ready, Set, Joe! It was as quick as tea. The only complaint I had was I only received 5 filters and a buttload of coffee, guess I'll have to buy more once I finish.
The coffee flavors were pretty good too. Though, I'm not going to lie I am a sucker for flavored coffees so while the Blanc et Noir was pretty good (it is an exotic mix of light and dark roasts) I preferred the Hazelnut Creme Brulee because of the yummy flavor. It was more hazelnutty than creme brulee-y in my opinion but it still tasted pretty darn good, very flavorful as compared to the Blanc et Noir. The Blanc et Noir tasted kind of just like regular coffee to me...but I am not a coffee conosieur so don't trust my opinion. It still was very good though! Not too strong and not too weak, PERFECT!
What's even better about Melitta and their Ready, Set, Joe is that it's only $5.99! I know, I was pretty surprised when I went on the website and found that out too. Definitely expected it to be more, it is SUCH a steal for such a great price. All coffee lovers would LOVE it. They even have a travel mug one for you commuters, it's a little more money but still only $8.99, it is such a bargain. The Cafe Collection flavors of coffee are only $6.99 for 9 to 11oz (depending on your flavor) so that's not too bad either.
All in all, Melitta has some terrific coffee makers and coffees I was actually surprised by how awesome this Ready, Set, Joe worked. It was love at first sip. But definitely check out their website for a variety of coffee makers both electric and non-electric as well as a great selection of coffee. It's a great, affordable website for coffee lovers.
Buy It!
Head on over to
Melitta's website
and browse the selection, if you love coffee you will love this website.
Win It!
ONE winner will receive a Ready, Set, Joe system, filters for the system, as well the two coffee flavors Blanc et Noir and Hazelnut Creme Brulee!
1. Search through the
Melitta website
and comment telling me what product or coffee flavor you'd like to try next.
Please answer this question or else your comment will not count! You must do this first or future entries will not be counted.
(1 entry)
BONUS ENTRIES
2.
Follow Melitta on Twitter.
(1 entry)
3. Subscribe by Email and Confirm that Subscription (1 entry)
4. Follow StarIMPULSE on Blogger. (2 entries!)
5. Follow me on Twitter. (1 entry)
6. Tweet about this giveaway and send me a direct link to that tweet, you can do this once a day. (1 entry per day)
7. Subscribe to my YouTube channel. (1 entry per day)
8. Add my StarIMPULSE button to your sidebar and send me think link to your blog so I can see it. (1 entry)
9. Add StarIMPULSE to your blogroll (using my URL), with a link back to me! (1 entry)
ONE winner will be chosen on June 7th, 2010 at 10:00pm (EST) and then will be emailed.
Alternate winners will be chosen if winner does not respond after 48 hours. This contest is only open to all US Residents. Thank you and good luck!
Disclaimer-
I was provided a product in exchange for my review.
You can read more about my blog policies in my disclaimer.